Basketball Smiles is back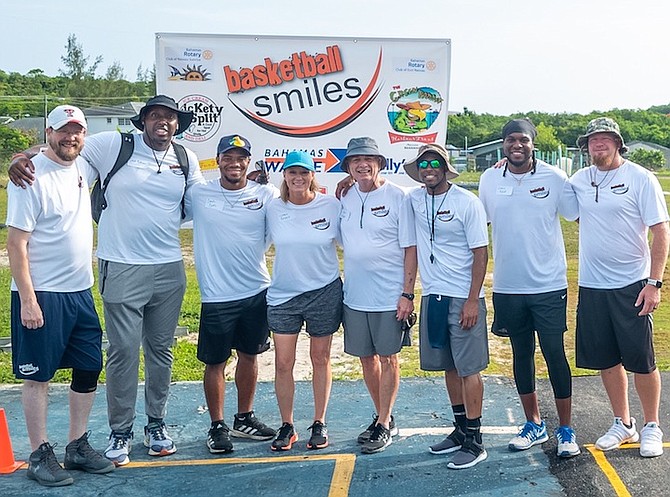 SAM Nichols shares a moment with his visiting instructors from the United States.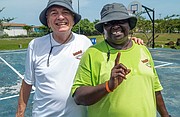 BASKETBALL Smiles Sam Nichols, left, and coach Patty Johnson.
#By BRENT STUBBS
#Senior Sports Reporter
#bstubbs@tribunemedia.net
#SAM Nichols and his cadre of American coaches from Basketball Smiles are back for its 23rd year, bringing a lot of smiles to the faces of Bahamian girls and boys basketball players during the camp that opened up yesterday at the HO Nash Junior High School.
#Unlike in the past where the instructors spent the entire week training the youngsters, this year's camp, coordinated by coach Patricia 'Pattie' Johnson, will run through Wednesday, but Nichols said they are just delighted to be able to return to impact their knowledge. "I love the coaches and the friends we've made and the boys and girls, whose lives we have been able to impact," Nichols said. "We had over 11,000 kids who have gone through our programme over the past 23 years. This is like our second home. That's why we continue to come back."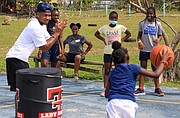 A BASKETBALL Smiles instructor cheers on a young camper.
#Adopting the quote "if you want to live a full life, give yourself to the next generation," Nichols said he's thrilled to be able to assist in the development of the next generation of Bahamian citizens as he and his coaches try to point them into the right direction.
#"What I've found out is that 90 percent of these boys and girls want to be coached," Nichols said. "They want somebody to care for them, they want somebody who will teach them the right specifics and that is why they are so coachable."
#Nichols is back with a coaching staff that includes a seven-year returnee, one with six years, another with five, two with just two years experience under their belt and two more who are making their debut. "There's a networking in the coaching profession and I told them that we just don't take any coach to come to the Bahamas," Nichols said. "We want them to represent Basketball Smiles in a positive way and they have to come for the right weekend, which is pour themselves into these kids for a week."
#The coaches are focusing on the fundamental skills of the girls in the morning sessions and the boys in the afternoon. They also go through some 3-on-3, 4-on-4 and 5-on-5 drills and group participation.
#"The kids really make it happen," said Adam Young out of Lubbock, Texas, where he works for a television company as well as Texas Tech. "They really enjoy learning the game and they are so enthusiastic, which helps me in my drive to get back over here every year."
#As for working with Nichols, Young said he has been a mentor, who helps him through the rough and the good times in and outside of basketball. He noted that he's even been impressed with how Nichols has worked with an amazing woman in Johnson, who is now going through her challenges.
#And Xavier Jackson, a basketball coach at Ward High School in Houston, Texas, is back for his fifth year.
#"I love the people and the kids and the energy that everyone brings to the camp," said Jackson, a good friend of Bahamian Olympic bronze medallist Frank Rutherford. "We are able to do something for kids who are less fortunate, so I get to remember that when I get back home.
#"Many of the campers I've seen every year since I came here. So just knowing that everything you do and say, they get to put it into action. So we're just delighted to be able to make an impact on so many lives here."
#Having met Nichols for the past nine years, Jackson said he could call him on any subject matter before, during and after the season and when he was introduced to Johnson, she inspired him a lot. But he noted that once he met Rutherford, he learned so much more about the Bahamas.
#Johnson said she's so grateful for coach Nichols and his cadre of coaches returning to plant a seed in the lives of the young Bahamian people.
#"They are dropping the seeds, but we have to take it and put it in the soil and water it," Johnson said. "What they learn, they can go home and do these drills, they can do them in their neighbourhood and when they go back to school, they can do these drills with their team-mates to help them to become better ball players."
#Along with their attitude, their academics and their availability, she said it's her hope that some of these players will be able to secure athletic scholarships and go on to become better basketball players but, more importantly, productive citizens of the Bahamas.
#At least two of the players noted the impact Basketball Smiles has had on their lives.
#Alencia Brice, a 16-year-old CI Gibson student, has been attending the camp for the past few years and she's eager to see what the instructors have to offer this year.
#"A wise person once told me that once you give, you will receive, so I'm just happy to be able to give back some of the knowledge I've learned to helping some of the youngsters in the camp," Brice said.
#"The camp has taught me how to be more aggressive and strong and coming here will only help me to be better when I go off to college on a basketball scholarship to become a veterinarian."
#One of Brice's "very good friends," Terrell McCoy said it's good to be back in the camp environment after they missed the past two years because of COVID- 19. "I really needed this again and I really wanted to see coach Nichols because I missed him," McCoy said. "I get to hone my dribbling skills, my shooting skills and they give me new drills to do at home when I'm bored so that I can get better on my own."
#McCoy, a 14-year-old student at Windsor Academy, has also been making her presence felt in track and field as one of the up and coming shot putters, but she's not sure exactly which sport she will be leaning more towards yet.
#Nichols said Basketball Smiles has been able to grow by leaps and bounds in the Bahamas because "no child will never pay and no child will ever be turned away. But he said what Johnson did over the years and now that she is experiencing her own personal and medical challenges, they all just want to be here for her. "She's my sister. We carry Patty in our heart all the time because people don't really see or know what she's done for this country," Nichols said. "We are coaches. She is solid as gold and we will continue to support her in all that she's going through in life."
http://www.tribune242.com/news/2022/jun/21/basketball-smiles-back/?news