Jay Fitness 5K was a success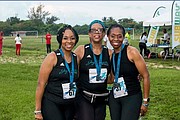 FEMALE competitors Ashanti Gibson, Sharon Kelly and Keisha Russell display their 'sexy' medals.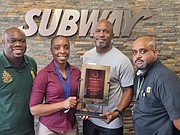 Jay Fitness Bahamas instructor J Donavon Rolle, second from right, presents an appreciation award to Subway representatives Dion Miller and Shantika Jones.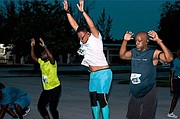 COMPETITORS CHERVEZ BROWN, Jamari Chea and Keith Gomez stretching. Photos courtesy of Derek Smith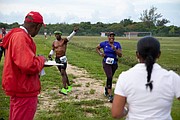 Competitors celebrating. Photo by 360 Designs and Images
#MACKEY Williams and Lesli Hanna emerged as the overall male and female walk winners, while Dexter Adderley and Eve Dorsette won the run segment of the 5-kilometre race.
#The event, held on Saturday, June 25 at St Augustine's College, was organised by Jay Fitness Bahamas instructor J Donavon Rolle in his bid to do something different to inspire his clientele as well as raise some funds for the Bahamas Kidney Association.
#"I wanted to allow participants more freedom without road traffic and the terrain of the campus added another level of complexity," said Rolle of the race dubbed "the Jay Way" and held at his alma mater.
#At the same time, Rolle said he wanted to do something different from the regular 5k, providing something fun with a little challenge.
#"It broke up the monotony over other road races that just go up one way and back," Rolle said. "Hence we have "surprises" on the route. It was important for us to make sure that the novice runner found it entertaining and the more seasoned runner found it challenging.
#"We ensured that regardless of the fitness level that the event was one that every member of the family would enjoy."
#After watching one of Jay fitness family members donate a kidney and continue to live a healthy lifestyle, Rolle said he wanted to make a contribution to the BKA, especially after they finally got a chance to stage an event coming out of the pandemic.
#"Kidney disease is on the rise you want to encourage more Bahamians to stay fit," he said.
#"This year the organisers of 5K the Jay Way are excited to host yet another event."
#In addition to their commitment in motivating others to lead healthier lifestyles, Rolle said they are dedicated to community building.
#"This year in addition to the tennis shoe drive which will provide shoes to those less fortunate, your financial support will allow us to donate to those affected by kidney disease," he said.
#"This will also assist in bringing awareness to this disease that continues to increase in The Bahamas."
#The winners are listed here:
#Male Walker – 1. Mackey Williams; 2. Erle Bethell; 3. Michael Dillett.
#Female Walker – 1. Liesl Hanna; 2. Latina Rolle; 3. Tia Johnson. Male Runner – 1. Dexter Adderley; 2. Perez Willie; 3. Andrew Gardiner.
#Female Runner – 1. Eve Dorsette; 2. Romona Lewis; 3. Lapeedra Damianos.
#Youth Walker – 1. Khyda Hanna; 2. Nadlyn Rolle.
#Youth Runner – 1. Denaja Minus.
http://www.tribune242.com/news/2022/jul/01/jay-fitness-5k-was-success/?news