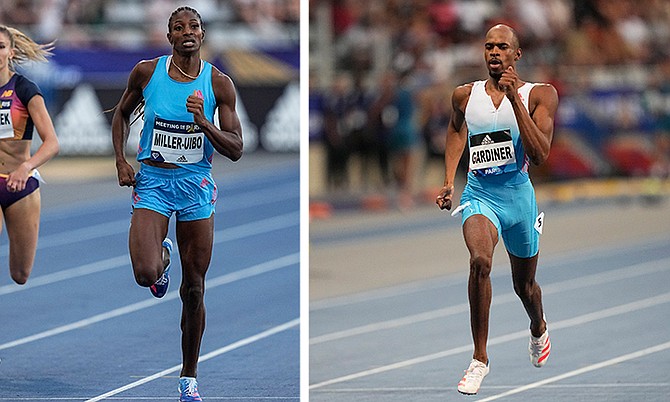 Shaunae Miller-Uibo and Steven Gardiner on their way to winning their 400 metres races at the Diamond League athletics meeting at Charlety stadium in Paris. (AP Photo/Michel Euler)
#By BRENT STUBBS
#Senior Sports Reporter
#bstubbs@tribunemedia.net
#With the women's 4 x 400 metre and mixed relay teams now added to the list, the Bahamas Association of Athletic Associations will field a squad of 16 athletes for the World Championship in Eugene, Oregon, next month.
#Heading the list of competitors on Team Bahamas are reigning World champion and Olympic gold medallist Steven Gardiner and two-time Olympic champion Shaunae Miller- Uibo, along with World Indoor Championship silver medallist Devynne Charlton.
#Kendrick Thompson, the NACAC decathlon champion, along with 2002 World champion Donald Thomas, long jumper LaQuan Nairn and sprinters Anthonique Strachan, Tynia Gaither, Terrence Jones Jr and Samson Colebrooke.
#Just before the deadline for qualification on Monday, the Bahamas women's 4 x 400m and the mixed relay teams both earned the 16th and final spots following the Bahamas Association of Athletic Associations' National Championships over the weekend to secure their spots at the World Championships.
#As a result of their performances, the BAAA named the women's pool for both relays to include Miller-Uibo, Strachan, Megan Moss, Donneisha Anderson, Javonya Valcourt and Jenae Ambrose, while adding Gardiner, Alonzo Russell, Bradley Dormeus and Wanya McCoy to the men's pool for the mixed relay.
#Head coach Rupert Gardiner said the team is a pretty good one and the management team is eager to work with them in Oregon for the championships from July 15-24.
#"We have some veterans like Shaunae and Steven and others like Anthonique Strachan, Tynia Gaither and Devynne Charlton and veteran like Donald Thomas and newcomers like LaQuan Nairn and Ken Mullings and both relay teams, so it's a great team," Gardiner said.
#"I expect them to do very well. Great things could happen for us. We have two relay teams and we expect that they will perform very well."
#It was anticipated that the men's 4 x 400m relay team would have also made the cut of the top 16 in the world, but they are the last team standing on the outside in 17th place. Should one of the top teams opt out of competing, the Bahamas could end up earning another team in the championships.
#Gardiner was a coach on the Bahamas team at the Olympic Games in 2021 in Tokyo, Japan.
#He told Tribune Sports he anticipates that this team will perform very well and bring home a couple of medals.
#The team is scheduled to depart on July 12 in time to get acclimatised for the championships.
#Women team – Anthonique Strachan (100/200m/4×400/ mixed medley relays); Shaunae Miller-Uibo (200/400m/4x400m/mixed medley relays); TyNia Gaither (100/200m); Devynne Charlton (100m hurdles); Donneisha Anderson (4x400m/mixed relay); Javonya Valcourt (4 x 400m/ mixed relays) and Janae Ambrose (4x400m/mixed relays).
#Men's team – Steven Gardiner – 400m/mixed medley relay); LaQuan Nairn (long jump); Terrence Jones (100m); Samson Colebrooke (100m); Ken Mullings (decathlon); Donald Thomas (high jump); Alonzo Russell (mixed relay); Bradley Dormeus (mixed relay) and Wayna McCoy (mixed relay).
The management team consists of the following:
#Rupert Gardiner – head coach; Shaun Miller Sr – assistant coach and James Rolle – jumps coach. Mabelene Miller – manager; Dionne Britton – assistant manager; Cindy Dorsett – team doctor and Pharez Cooper – therapist.
http://www.tribune242.com/news/2022/jul/01/world-championship-team-named/?news