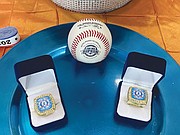 #By RENALDO DORSETT
#Tribune Sports Reporter
#rdorsett@tribunemedia.net
#THE top national youth baseball programmes across the region are in the capital this weekend for the inaugural Babe Ruth Region Caribbean Championships and Invitational.
#Play begins this morning and continues through July 11 at the newly renovated Baillou Hills Sporting Complex featuring 12 teams across the U16 and U12 divisions.
#The 12U division features Bahamas (Host), Bahamas (Tournament), Puerto Rico, Cuba, Cayman Islands and Aruba.
#First pitch is at 9am with Puerto Rico against Cuba.
#At 11am Cayman Islands will take on Bahamas (Tournament), followed by Bahamas (Host) against Cuba at 1pm.
#Bahamas (Tournament) takes on Puerto Rico at 3pm and Bahamas (Host) concludes the day with a matchup against Aruba at 5pm.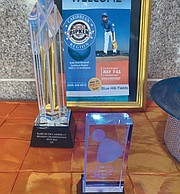 #The 16U division will feature The Bahamas, St Maarten, Netherlands, Aruba, Puerto Rico and the United States.
#Aruba and St Marteen will open play at 9am followed by the Netherlands and USA at 11am and Aruba against Puerto Rico at 1pm.
#The Bahamas will take the field at 3pm when they face the Netherlands and the USA closes out day one against St Marteen.
#The 1pm and 3pm games will be broadcast live on Rev throughout the group stage. They will also broadcast the semifinals and medal games on the final day. The opening ceremony will be the final event on day one, hosted at the Thomas A Robinson Stadium at 7pm with free admission.
#Play in the group stage continues from 9-5 for the following two days. The single game elimination round takes place on Sunday with Monday slated for gold and bronze medal games.
#Ticket packages for the event can be purchased at the NSA office at the Thomas A Robinson Stadium. Five day packages for adults are available at $65 for adults and $20 for children. Daily rates are $15 for adults and $5 for children.
#SuperClubs Breezes will be the Games Village for the visiting teams.
#Greg Burrows Sr, chairman of the National Sports Authority, also serves as the commissioner for Babe Ruth Baseball in the Caribbean.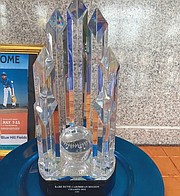 #"My responsibility was mainly developing the brand in the region. The way I thought would be a good way to launch this brand was to host a tournament during our Independence."
#Javier Bowe serves as manager of the U12 Bahamas (Host) and Lionel Ferguson Jr will serve as manager of Bahamas (Tournament). Greg Burrows Jr will be the manager of the U16 team.
#Minister of Youth, Sports and Culture Mario Bowleg said the event is indicative of the current administration's Sports in Paradise initiative.
#"We have to understand that the amount of money we invest in our youth determines the future of our nation. The little that we put into these events is not sufficient compared to the lives we save with these young men," he said.
#"We have a lot of professional baseball players in our system. These U12 and U16 divisions, this is where they start. So the investment, we as a people, as a government. The Sports in Paradise brand is not about just having heads in beds, it is about giving exposure to our young people, giving them the opportunity to explore the world."
http://www.tribune242.com/news/2022/jul/07/inaugural-babe-ruth-region-caribbean-championships/?news