Judokas primed and ready for Commonwealth Games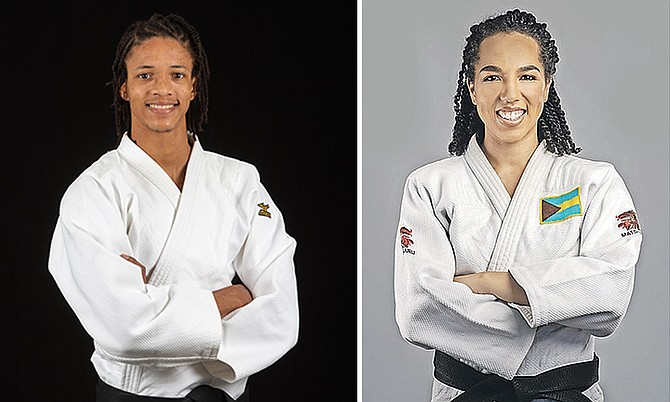 ANDREW MUNNINGS, left, and Cynthia Rahming.
By BRENT STUBBS
Senior Sports Reporter
bstubbs@tribunemedia.net
While it has been a dream of his to represent the Bahamas at the international level, Andrew Munnings said he couldn't ask for a better team-mate than two-time competitor Cynthia Rahming to travel with him to the Commonwealth Games.
The duo will be representing the Bahamas in the judo competition at the games, scheduled for July 27 to August 7 in Birmingham, England. They will be a part of a 27-member team from different sporting disciplines that will compete for the Bahamas.
Having qualified at the Pan American-Oceania Judo Championships held in April in Lima, Peru, Munnings said he's not only grateful for the opportunity to compete, but he's focused on making the Bahamian public very proud. "To qualify for these games many out of competition fights were fought behind the scenes and through the Lord's strength and my persistence brought this opportunity," he said.
"Since the Pan American Championships earlier this year my physicality and technicality has increased through many gym sessions, studying my competitors and working on my game strategy and accuracy."
Although he's qualified for the Commonwealth Games, Munnings said his ultimate goal is to get to the Olympic Games and this is just a step in that direction.
"The Olympic Games is a part of my vison in life and the Commonwealth Games is an introduction to this goal of mine, which many of these top competitors will be the same men I will have to fight if I qualify for the Paris Olympics in 2024," Munnings said. "Throughout my circuit, I have tested myself against them and I am excited to face them again in the CWG."
Munnings, 24, said he and Rahming have been travelling together for years training and competing over the past decade, but this is going to be a special trip next week when they head to Birmingham with coach Willard McKenzie.
Rahming, 28, will be going to her second games after making her debut as the lone judoka in 2014 in Glasglow, Scotland.
"The calibre of competition over the last eight years has significantly strengthened as the Commonwealth countries have invested in their judo athletes particularly over the past Olympic cycle," said Rahming, the daughter of Bahamas Judo Association president Darcy Rahming.
"I'm looking forward to seeing my friends from the judo Olympic cycle. I've decided to revert to a style I did when I first started judo, which I'm hoping will surprise my competitors and bring me the advantage."
In preparation for the games, Rahming said she's been "focusing on her gym work, stamina and relearning the basics." She noted that she's counting on her long journey in the sport to propel her to success at the games.
"The competition is a small portion of what the CWG is about," she said. "It is exciting and inspiring to see world-class athletes go at it, but I am going to the games for a bigger picture, which I will divulge at a later time."
As a competitor of the sport since the age of 13, Rahming said her aim is to get a medal to add to the bronze she won at the Olympic qualifier and hopefully improve on her world ranking she previously held within the top 100 in 2018 and seventh in the Pan American region.
Munnings, on the other hand, has been competing since he was a cadet. He said his immediate goal is to surpass his previous world ranking of 216.
"Challenges like competition and training camp expenses makes the journey a difficult one to compete at these A level competitions, but CWG is a competition that can propel me further in my career and can pull some needed endorsements," he said.
"I've been preparing my social media accounts and content creating for this exact opportunity."
The judokas will compete at the games along with competitors from the Bahamas in track and field, swimming, boxing, cycling, karate and the triathlon.
http://www.tribune242.com/news/2022/jul/22/judokas-primed-and-ready-commonwealth-games/?news