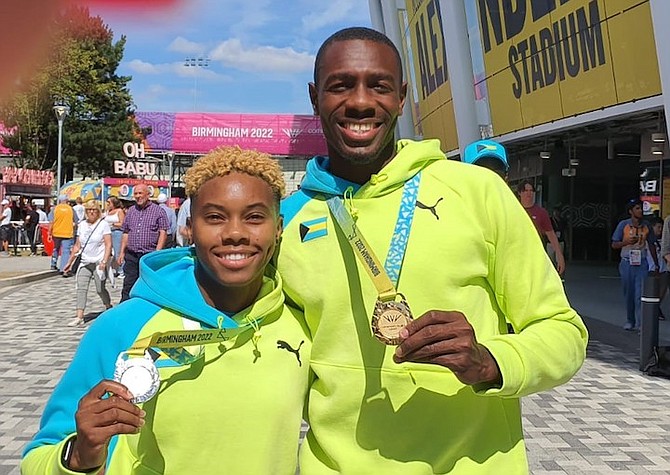 MEDAL GLORY: Devynne Charlton, left, and LaQuan Nairn show off their silver (100 metre hurdles) and gold (long jump) medals respectively won at the 2022 Commonwealth Games in Birmingham, England. After 11 days of intense competition in seven disciplines, Team Bahamas will return from the Commonwealth Games with the two medals and tied in the 23rd spot on the medal chart with Grenada. Members of the team, including executives and athletes, left the games with varied experiences to cherish.
HEAD coach Bernard Rolle, Oria Wood, Denisha Cartwright, coach Ravanno Ferguson and Kendrick Thompson.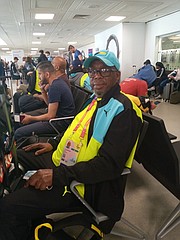 BOXING team manager Vincent Strachan.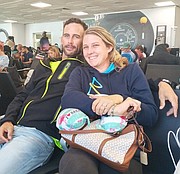 CYCLIST Lorin Sawyer and his wife Diane.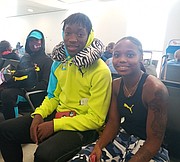 TRACK athletes, from left to right, Shaun Miller Jr, Jahmaal Wilson and Denisha Cartwright.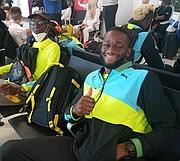 COACH Peter Pratt and triple jumper Kaiwan Culmer, right.
#By BRENT STUBBS
#Senior Sports Reporter
#bstubbs@tribunemedia.net
#BIRMINGHAM, England — After 11 days of intense competition in seven disciplines, Team Bahamas will return from the 2022 Commonwealth Games with a gold and silver medal and tied for the 23rd spot on the medal chart with Grenada.
#Members of the team, including executives and athletes, left the games with varied experiences to cherish, including experiencing the jammed-packed stadiums in both the morning and evening sessions every day.
#While the triathlete and swimmers left last week, the wrestling, boxing, cycling and track and field teams departed yesterday with gold medallist LaQuan Nairn in the men's long jump, silver medallist Devynne Charlton in the women's 100 metre hurdles, joining high jumper Donald Thomas and boxers Carl Hield and Rashield Williams, who all headed to the United States.
#The other team members headed to the Bahamas, while sprinter Tynia Gaither stayed in Europe to continue to compete on the circuit. The judo team and the remaining officials are due back in town today.
#Boxing team manager Vincent Strachan, who is also the president of the Bahamas Amateur Boxing Federation, said both Hield and Williams performed as best as they could, despite getting knocked out in the first and long on points in the third round respectively.
#Williams, the 32-year-old professional boxer who was allowed to compete with the amateurs, actually competed in a lower class and had to shed some 11 pounds in three days to make the weight limit.
#"I think the team's performance was as best as it could. There were challenges and as a result of those challenges, it might have mitigated the degree of performances from the boxers," Strachan said. "Again, we go back to the fact that the boxers are not being able to compete on a regular basis.
#"You can train for three to six months, but if you don't have competition in that time, you won't be sharp and ready as you should be. But I congratulate the boxers on what they did. They represented the Bahamas to the best of their abilities."
#Strachan, however, said the federation needs funding to be able to assist the boxers so that they can be able to go to events like this and be able to compete on par with their peers whenever the opportunities arise.
#Kendrick Thompson, who had to withdraw from the men's decathlon with a left ankle injury he sustained during the pole vault competition on the final of the two days of the gruelling 10-event competition, said he's now committed to getting ready for the next major event next year.
#"It was a great experience competing against some of the best decathletes in the world," said the 24-year-old University of the Bahamas standout. "The injury is coming along. I hope to get some therapy on it.
#"I will rest up and get ready for next year. I want to be in this same position to compete in any decathlon meet on the schedule as long as I'm healthy."
#Petite rookie sprinter Denisha Cartwright, who was always in a jovial mood, said she had a wonderful time, although she didn't advance in both the women's 100 with her 32nd placing and 25th in the 200m.
#"My experience was wonderful this year. It just makes me want to work harder so I can compete next year," said the 22-year-old Cartwright, who also had a sensational collegiate season for the Minnesota State Mavericks.
#Although he also performed very well making it to the NCAA Championships this year for Ohio State, 21-year-old Shaun Miller Jr said he was disappointed that he didn't come to Birmingham and perform as well as expected for the Bahamas in his debut at the games.
#"It was a very good meet, but I felt I let the Bahamian people down, so I just have to go to the next meet at the Senior NACAC Championships and do better," said Miller Jr, who was 10th in the field that saw national champion Donald Thomas fall short of getting a medal with fourth place.
#"I didn't jump as well as I am capable of jumping so I think I let the country down. But I will redeem myself."
#Also competing or the first time at a major international meet, 21-year-old Jahmaal Wilson chalked it up to a learning experience, especially considering the fact that he was disqualified from the heats of the men's 110m hurdles.
#"For me personally, it was a learning curve," said the West Texas A&M standout. "It was an introduction to the big leagues for me," he said. "I just have to do more training and work on my clearances over the hurdles and I will be okay."
#Ravanno Ferguson, one of the coaches for the track team, said they had a good mixture of youth and experience on the team, which bodes well for the future.
#"I think it was a great experience for our athletes," said Ferguson, who also serves as the first vice president of the BAAA. "We had six finalists from 10 athletes, so we can't ask for anything more than that.
#"Our finalists did a really good job with two of them winning medals. So to me, it's been a very successful showing from such a small team. I think we have something to work on as we look ahead to the future."
#Track and field head coach Bernard Rolle said the athletes lived up to their expectations.
#"We had some good performances from the athletes as they went though the rounds," he said. "We got the two medals from LaQuan Nairn and Devynne Charlton, but I think all of the athletes should be commended for how well they performed.
#"This was a very good young and experienced team to work with. I think they all have a bright future ahead of them. They just need to stick with it. We are looking for more performances like we have from our medallists in the next international event."
#And veteran coach Peter Pratt, who worked directly with Nairn in the long jump and Kaiwan Culmer in the men's triple jump, said he was glad that he got the opportunity to make the trip here to another games.
#"The experience here was tremendous," he stated.
#"The athletes all did what they had to do. We expected to get a few more medals, but we're happy with what we got. I think the athletes performed very well and they should be commended."
#This was the second time around for Rashji Mackey in wrestling. While he had another team-mate this year making his debut in 32-year-old Thorn Demeritte, Mackey, 36, said he was glad that they both got to make their presence felt even though they were both stopped 10-0 in points by their opponents.
#"The whole experience for free style wrestling was exciting," Mackey said. "Although we both lost, I think we got some experiences that should help to prepare us for the next competition. I know for me it was a challenge fighting out my weight class, but I did my best in the 85 kilo class."
#Oria Wood, one of the Bahamas Olympic Committee's vice presidents who assisted chef de mission Roy Colebrooke and team manager Rudolph Ferguson in Birmingham, said if there was one regret, it was the fact that the team was split up in the three different Games Villages.
#"We didn't get to bond as a team because we were separated and so we didn't get to see each other," she said.
#"Everything went well for us at the University of Birmingham, except for the selection of food sometimes. I don't know about the other locations.
#"Other than that, we had two more athletes getting on the medal stand in LaQuan Nairn and Devynne Charlton. So instead of us just looking at Shaunae (Miller-Uibo) and Stevie (Gardiner), we have some other athletes to look at because I know they will medal again at the next competition."
#Colebrooke, a vice president of the BOC who also serves as the president of the Bahamas Cycling Federation, said the team on a whole performed very well.
#"Anytime you can come out with a medal or two and have athletes in the finals, I think you had a very successful games," Colebrooke said.
#"I wished the cyclists had performed better, but they had their share of challenges and were not allowed to continue to compete. They will learn from it.
#"But on the whole, I think all of the athletes performed very well. We were glad to see Devynne add to our medal count in the hurdles.
#"But LaQuan was just outstanding in the long jump. Their performances helped to make the trip so successful. I want to thank all of the athletes who represented Team Bahamas."
#There were a few spouses and a number of parents who came along to support their children and Colebrooke said wherever possible, the BOC made every effort to accommodate them so that they could be in the stands at the various sporting venues cheering on Team Bahamas.
#While the other disciplines, except boxing and cycling, will shut down their season, the majority of the track athletes will be heading to Grand Bahama for the NACAC Championships, scheduled for August 18-21 at the Grand Bahama Sports Complex.
#Also during that weekend, Sawyer and Neely are expected to compete in a race in Grand Bahama August 20-21 before they head to Guyana for the Caribbean Cycling Championships in September and Williams will be preparing for his next pro show in Florida at the end of August.
http://www.tribune242.com/news/2022/aug/09/bringing-home-gold-silver-team-bahamas-makes-natio/?news