Bahamas Beach Soccer Cup kicks off on Friday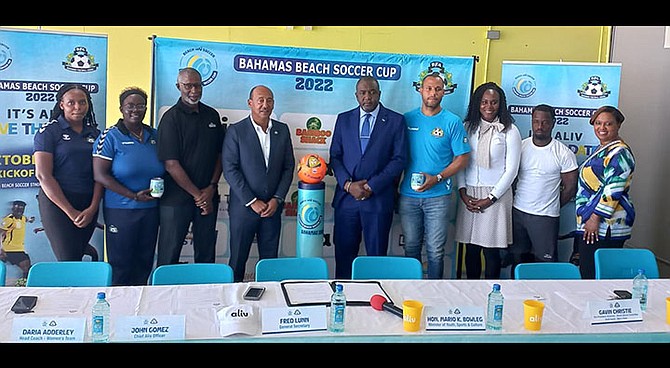 SHOWN, from left to right, are Hadassah Knowles, women's national team player, Daria Adderley, women's national team head coach, James Gomez, chief Aliv officer, Fred Lunn, BFA secretary general, Minister of Youth, Sports, and Culture Mario Bowleg, Gavin Christie, men's national team head coach, Kelsie Johnson, director of sports, Lesly St Fleur, men's national team head coach and Anya James, BFA executive vice president.
As of Tuesday, October 18, 2022
#By RENALDO DORSETT
#Tribune Sports Reporter
#rdorsett@tribunemedia.net
#Beach soccer returns to the shores of The Bahamas as the country's men's and women's teams will compete against their counterparts throughout the region this weekend.
#The Bahamas Football Association and Beach Soccer Worldwide will host The Bahamas Beach Soccer Cup, October 21-23 in the National Beach Soccer Stadium at the foot of the Sir Sidney Poitier Bridge.
#The men's division includes The Bahamas, Trinidad and Tobago, Colombia and Costa Rica while in the women's division The Bahamas will compete against Trinidad and Turks and Caicos.
#Gates open at 4pm each day and the first match begins at 6pm. Admission to the general public is free of charge.
#Both head coaches of Team Bahamas called it an exciting moment for local beach soccer as the players anticipate an eager return to the pitch.
#Head coach of the women's team, Daria Adderley, said the event is an opportunity to showcase the budding programme, ranked no.18 by BSWW.
#"This is our first international tournament here in The Bahamas so for the women here that will be playing, they are very excited to have the country see them perform," she said.
#"We played in a tournament in El Salvador a few months ago and we had a very good showing. We want the country to know that the women are just as good as the men, even better in some respects."
#Forward Hadassah Knowles added: "We've been training very hard, team chemistry is at its peak so we have nothing but high hopes for this tournament. "I'm very happy to be playing for my country in front of country and it's an amazing opportunity so I'm very excited."
#The team will face Turks and Caicos on October 22 and Trinidad and Tobago on October 23.
#The men's national team programme is currently ranked no.38 by BSWW. Colombia is ranked the highest in the tournament at number 26 while Costa Rica is no. 52. Trinidad and Tobago is at no. 54.
#They will open competition on October 21 against Trinidad and Tobago, followed by a matchup against Costa Rica the following day and concludes on the final day against Colombia.
#Gavin Christie has moved from the sand to the sidelines and will serve as head coach for the first time.
#"Beach soccer is finally back to The Bahamas. Unfortunately with all that happened with COVID, the sport had to sit back for a while, we've been off for nearly two years, so now finally coming back to our shores we are excited," he said.
#"This is my first moving away from being a player, headed into a coaching role and I'm excited as a new venture. This team is excited, they've been begging for an opportunity to play. Last time we played was abroad and was prior to COVID, so we haven't played at home at this level since the World Cup. The team is ready, we're at the fine-tuning stage just a few days left working on tactical stuff to ensure that we are ready to go."
#Veteran striker Lesly St Fleur said: "We've been preparing. We've trained but haven't played enough games. Happy to have the games here and we get to showcase in front of the country."
#ALIV will serve as the Conch Shell Title Sponsor for the event.
#"As the home of entertainment in the Bahamas, we consider it our business to support local entities such as the BFA. We are proud to offer premium content to our subscribers via Our TV and also our Direct TV platform. We are providing in kind sponsorship by way of WiFi so persons attending the event can be able to share their experiences live with friends and family members who are not here with them," said chief Aliv Officer John Gomez. "We are proud to always support organisations such as this, and we will continue to invest in the community so we want to encourage the public to come out because it is so meaningful to encourage, give back and support our athletes."
#Minister of Youth, Sports, and Culture Mario Bowleg said he hopes for this event to be a catalyst for the growth of the sport throughout the country.
#"It is expected that the event will be exciting for all and we should all support our national teams in their return to international competition. The Bahamas has some of the most beautiful beaches in the world. This sport, that showcases both our stunning nature and athletic expertise – we hope that this event can be a catalyst for this sport to grow throughout the family islands and that beach soccer can be enjoyed by Bahamians on every island," he said.
#"The country also has the only world-class beach soccer stadium in the region, and as Bahamians, we should hope that our country can continue to put on world-class events in paradise."
#The Bahamas has hosted the 2017 World Cup event as well as the 2018 Bahamas Beach Soccer Cup.
#BFA secretary general Fred Lunn said the continued legacy of hosting these marquee events provides unparalleled exposure.
#"This event will be broadcast to 130 countries around the world so we are going to get tremendous exposure. Other countries will be watching what is happening here, particularly those in the CONCACAF region. We are looking to be one of the countries submitting a bid to host the World Cup Qualifiers here in 2023. We did it several years ago and it was a tremendous success. It was the biggest viewership of any event CONCACAF has ever put on, so we are hoping to repeat that. When we hosted the World Cup here in 2017, we had some 54,000 local people attend that event," he said. "We are so thankful for the consistent support of the government of The Bahamas, corporate Bahamas, the sporting community – made up of our coaches, our players, our fans, the BFA team has worked around the clock, to ensure the success of this upcoming event."