QC Comets junior boys, senior girls advance to championship series in sudden death playoffs
As of Thursday, November 3, 2022
Photo Gallery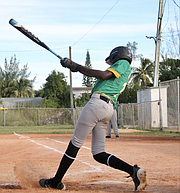 #THE Bahamas Association of Independent Secondary Schools Sports Association sudden death playoffs got underway yesterday at the Freedom Farm Baseball League.
#The Queen's College Comets junior boys and senior girls teams both advanced to the championship series in their respective divisions.
#The second seeded junior boys defeated the third seeded NCA Crusaders 11-1. The other half of the junior boys semifinals will be played today when the undefeated St Augustine's College Big Red Machine takes on the Temple Christian Suns.
#In senior girls' play, the Comets defeated the Big Red Machine to advance. They will face the winners of the matchup between the undefeated Crusaders and the fourth ranked St John's Giants.
http://www.tribune242.com/news/2022/nov/03/qc-comets-junior-boys-senior-girls-advance-champio/?news