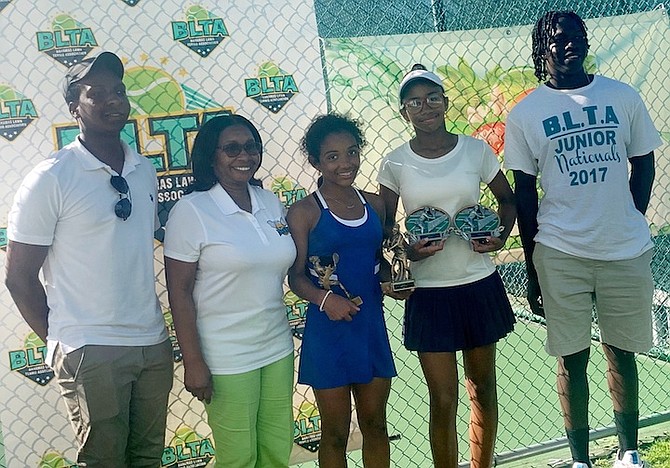 BRIANA Houlgrave and Tatyana Madu receive their champions and runners-up trophies from Chilean Burrows. At left is Andrew Burrows Jr.
As of Friday, January 13, 2023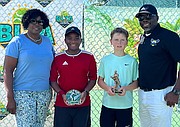 RUNNER-up Chase Newbold and champion Patrick MacTaggart receive their trophies from past president Darnette Weir and current president Perry Newton.
#JUNIORS in two age categories, U14 and U16, participated in the Bahamas Lawn Tennis Association (BLTA) New Year's Tournament from January 7-10 at the National Tennis Centre.
#A group of talented juniors headlined the opening tournament of 2023.
#President Perry Newton, vice-president Chilean Burrows and immediate past-president Darnette Weir were on hand to present the trophies.
#The winners' circle consisted of:
#U14 Girls
#Champion: Briana
#Houlgrave
#Runner Up: Tatyana
#Madu
#U14 Boys
#Champion: Patrick
#Mactaggart
#Runner Up: Chase
#Newbold
#U16 Girls
#Champion: Briana
#Houlgrave
#Runner Up: Tatyana
#Madu
#U16 Boys
#Champion: Jackson
#Mactaggart
#Runner Up: William
#McCartney
#Sportsmanship Boy:
#Panagiotis Mousis
#Sportsmanship Girl:
#Claudia Drgon
#The BLTA congratulates all the winners and participants. Special mention is made of Brianna Houlgrave who captured two age divisions in U14 and U16. 12-year-old Briana played for the first time in the U16 category winning over the #1 and #2 seeds and emerging victorious.
#"Continue to shine," the BLTA wrote. "We thank the tournament director and officials for their hard work."
http://www.tribune242.com/news/2023/jan/13/junior-tennis-players-headline-new-years-tourney/?news