HO Nash Lions girls say thank you to coach 'Pattie' Johnson
Former Deputy Prime Minister Cynthia "Mother" Pratt, HO Nash principal Andre Nairn and Melissa Spann join in the cheque presentation to coach Patricia "Pattie" Johnson.
As of Wednesday, April 12, 2023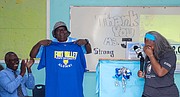 Coach Pattie Johnson holds up her alma mater Fort Valley shirt she received from Melissa Spann.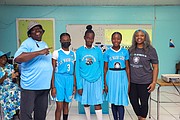 Coach Pattie Johnson and three of her HO Nash Lions players model the new uniforms they received from Melissa Spann.
#By BRENT STUBBS
#Senior Sports Reporter
#bstubbs@tribunemedia.net
#WITH so many persons she helped to groom through the Lions girls' basketball and volleyball programme at HO Nash, former deputy prime minister Cynthia "Mother" Pratt said it was good to see at least one person come back and say "thank you" to coach Patricia 'Pattie" Johnson.
#Despite the rain pouring down, Melissa Spann hosted a limited version of a reception celebration for Johnson yesterday morning in the music room at HO Nash.
#A humble, but jovial Johnson said the event was a good opportunity for the current members of the Lions' den to appreciate what they can accomplish when they learn to "share" and work with each other.
#"I'm thinking that because someone helped me, I'm just doing what they did," said Johnson, who noted how she got her start in sports with the late Anita Doherty. "So I'm just riding on someone's wave.
#"I'm not thinking that we are doing something outstanding here, but because someone assisted me, I was able to give back, so that is my cry. I've been here a very long time. I get the smiles, I get the thank you. I get all kinds of thank you."
#Spann, a member of the graduating class of 1996, said she was delighted to give Johnson the "flowers" that she deserves for the role she played in instilling the "discipline" that has been the hallmark of her coaching career that spun from 1990 at HO Nash.
#"Ms Johnson has made such a profound impact on my life as well as all of the students who came across her path here at HO Nash," said Spann, who went on to attend Johnson's alma mater. "She loves it here at HO Nash and so putting this together was an honour of mine. This is just a small token for my love and appreciation for what she has done for all of us."
#After presenting a cheque of $2,000 to Johnson, Spann also used three of the current members of the Lions girls' basketball and volleyball teams to model the uniforms that she donated to HO Nash.
#HO Nash's 1993 graduate Anastasia Sands, who follows in the footsteps of Johnson as a highly respected coach with the St Augustine's College Big Red Machine, also made some presentations to Johnson for the role she played as a "mother" figure to so many of her players.
#"Coach Johnson has been more than a gem. She has been so much to so many of us.
#"She has been a mother to us and even when our families forsake us, she has been there for us," Sands stressed. "She has been there for us no matter what."
#Even one of her male players, Darvin Johnson – a 1996 graduate – also took the time to say "thanks," along with Keyara Jennings, a member of Johnson's current class of 2023.
#The majority of them reflected on the days they spent in practice, the jammed-packed car rides to games and the conch salads they ate and the chocolates that they had to sell in order to help pay their ways to go to tournaments abroad.
#In her speech, Pratt talked especially about the many sacrifices that Johnson would have made to support her players, yet many of them have yet to return to say "thank you" to her for her tremendous efforts.
#"Today was an eye opener to me," said Pratt, who spoke about her involvement with Johnson and Jeannie "Bubbles" Minus from the days they travelled to the United States to attend coaching seminars.
#"What this young lady has done for Pattie is tremendous because we have so many players who have become professionals right here in the country and they have not taken the time to come back and say thanks.
#"But this young lady decided to come back from the United States and to do it."
#Pratt, one of the country's most versatile former athletes, said it was so encouraging to see some of the players whom Johnson groomed in attendance to show their support for the job she did with them.
#Johnson said while she was able to get so many of her players off to college to earn a degree, she only wanted to make sure that they make something out of their future.
#As for her future in coaching at HO Nash, Johnson, who is going through her health challenges, said she has about five years before she officially retires, but she may only be looking at staying for three more years.
#"As long as God allows me to get up every morning and I'm feeling free and have the ability to do it, I will continue," she said.
#During her tenure as a coach, Johnson has won just about every title, including the Government Secondary Schools Sports Association, Father Marcian Peters and the national titles.
#She has also coached at the international level where she was the first Bahamian woman to win a title. But in all of her achievements, Johnson said she will always cherish the time she spent with the Lions in their Lions' den at HO Nash.