Davis Cup: Bahamas stays in Zone III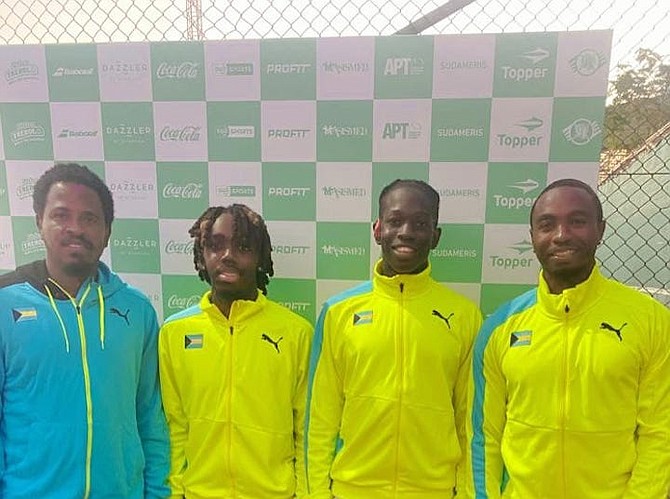 Bahamas Davis Cup team, shown from left to right, are captain Marvin Rolle, Denali Nottage, Donte Armbrister and Kevin Major Jr.
#By BRENT STUBBS
#Senior Sports Reporter
#bstubbs@tribunemedia,.net
#THEY were not the results that they wanted, but veteran player/captain Marvin Rolle said it was better than being relegated from American Zone III to zone IV (four) in the Davis Cup competition.
#In their relegation playoff match against Panama, Team Bahamas prevailed with a 2-0 sweep over Panama on Saturday at the National Tennis Center in Asuncion, Paraguay to remain in Zone III for 2024.
#Grand Bahamian Denali Nottage, making his debut on the team, secured his second victory in the first match of the day with a 6-1, 6-3 decision over Luis Ching in just 56 minutes.
#And Kevin Major Jr, the team's top seeded player, pulled off a 6-3, 6-4 victory over Luis Gomez in a little over one hour and 10 minutes to seal the deal for Team Bahamas.
#The doubles match wasn't contested, although Rolle and Donte Armbrister were all set to go to work against the Panamanian duo of Ching and Chad Valdez as the singles clinched the tie for Team Bahamas. "Denali started off strong. After he easily won the first set, the second set was more challenging.
#"The guy from Panama started to return more balls and made it more competitive," Rolle said. "Denali was able to hold his own and closed out the match."
#Rolle noted that he anticipated that Major Jr would have a fight on his hands in the second match.
#"The guy KJ played with was very talented from Panama. He had a big forearm like KJ," Rolle said.
#"After he won the first set, the second set was on serve. The guys started playing more balls.
#"KJ had to be mentally strong to stay with him. Then finally at 4-4, KJ broke and he was able to close it out."
#Rolle said they had hoped to be promoted to zone II, but he felt the players all showed their grit and proved that they would not settle with being dropped to zone IV (four).
#"We started off slow, but we finished off strong," said Rolle of Team Bahamas, who ended up in fourth place in Group B round robin play during the week with a 1-3 win-loss record, winning four of their eight matches played.
#"Donte got his first win as a Davis Cupper. The last time he played, he didn't win a match," said Rolle of Armbriater, whom he paired up with in doubles during the tie. "He was able to get two wins this time around.
#"Denali ended up with two wins in singles, so I think that is good for his confidence moving on.
#"KJ had some tough matches all week, but he was able to finish off strong and I am still doing my thing in doubles. We played well in our last two matches."
#Although they got the job done, Rolle said Team Bahamas will have to be much stronger in terms of player personnel in order to advance out of zone III where the country has played for the past few years.
#"If we can get Justin Roberts back on the team, it would be a plus for us," said Rolle of Roberts, the top ranked International Tennis Federation player in recent time.
#"Not taking anything away from Donte and Denali, they are learning. But Justin is out there and he's playing.
#"Although he's only played one tie for us, his experience would definitely be a plus for us, so we have to figure out a way to get him on the team to help us out."
#Add a player like Philip Major Jr, who is just as an effective doubles player as himself, Rolle said they can form a formidable team. He said he would also like to see the Newman brothers Spencer and Baker make a comeback to play for the Bahamas again.
#"We definitely have some strong players to play on the team. Nothing against Denali and Donte and the other young players coming up, but we have some more experienced players who understand the game," Rolle said.
#"We would like to see Donte and Denali get some more college experience and play on the circuit. I think they can be a great asset to the team moving forward as well. But we have some players out there with a lot of experience that we need to get back on the team to help us get out of zone III."
#The Bahamas Lawn Tennis Association, the governing body for the sport, selected the team based on the players' performances in the year-ending Giorgio Baldacci Invitational in December and other final trials prior to the team's trip.
#In recent times, the BLTA also looked at the ITF ranking to select players to the team, in the case of Roberts, whose top ranking enabled him to make the team in 2021 where he ended up with a 2-1 record in singles.