Jannell Curtis and Kyle Wilson win top awards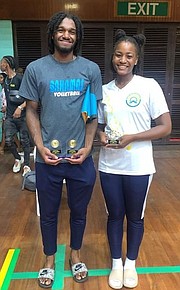 Wilson, left, and Curtis. Photo: Raehel Knowles
#By BRENT STUBBS
#Senior Sports Reporter
#bstubbs@tribunemedia.net
#WHILE the Bahamas won't be returning home with any men or ladies' team medals from the XVII Cazova Caribbean Senior Championships in Paramaribo, Suriname, two players were awarded individual trophies for their performances.
#During the awards ceremony at the Anthony Nesty Sports Hall on Sunday, Jannell Curtis claimed the best server award for the women, while Kyle Wilson was selected as best outside hitter and best scorer for the men.
#Mychael Vernon, who was named the Most Valuable Player after helping her team win the title over Trinidad & Tobago, was also the best receiver and outside hitter. Her team-mates Keshan Livingston was the best setter, Sashalee Thomas was best opposite player and Anesia Edwards was the second best middle player.
#Ketura Margaret of Suriname received the award for second best outside hitter, and Tennelle Chapman-Goodluck was handed the award for first best middle blocker. Three players of runner-up Trinidad and Tobago also received awards. Cheyenne Chin Choy as best digger and best libero, Krystle Esdelle as best scorer.
#Suriname opposite Zefanio Breinburg was selected as the men's MVP after his team won the championship match defending their title against 10-time champion Barbados 3-2 (22-25, 25-21, 29-27, 23-25, 17-15) and he had an average of 18 points during the tournament.
#Breinburg was also the best opposite player. His teammates Anferney Schmeltz was handed the award for best digger and best libero, Keven Sporkslede received best receiver award.
#Ryck Webb of Jamaica was recognised for best Server and second Outside Hitter. His teammate Mark Blake was the first Middle Blocker. Donald Kameron of Trinidad and Tobago was Best Setter and Best Scorer, Raygid Isenia second Middle Blocker.

#The Bahamas women, coached by Jason Saunders and Glenn Rolle, finished fifth in the tournament and the men, coached by Lloyd Davis and Tonny Simon, were fourth, losing out to Trinidad & Tobago 3-1 (25, 25-19, 20-25, 25-18) in the bronze medal game.