Albury And Buffaloes Win Title After Double Overtime Thriller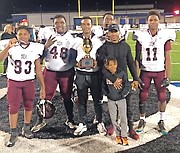 Deyton Albury, no.11, with teammates.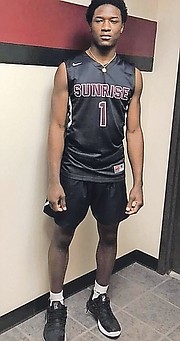 Deyton Albury
#By BRENT STUBBS
#Senior Sports Reporter
#bstubbs@tribunemedia.net
#WITH very little chance to celebrate his first taste of victory as a high school football state champion on Friday night, Deyton Albury was on the court on Saturday making his successful debut as a basketball player for the Sunrise Christian Academy Buffaloes.
#As a running back and wide receiver, Albury helped the Buffaloes come back from a 24-point deficit to nip Destiny Christian Academy 52-50 in double overtime.
#Albury finished the game in his rookie season playing football with a pair of touchdowns.
#"We expected a good game and we came out with the victory," said Albury of their team, coached by Vincent Martin.
#Deyton's father, Michael Sr, called his son's performance nothing but spectacular.
#"I wasn't surprised. Like I said before, when Deyton plays a game, he plays to win so once his team-mates have the same mentality and are hungry for it, as he is, I know victory is in sight," he said.
#"His performance was very impressive. For a first time rookie football player, he definitely left his mark out there. He had two touchdowns, even though he had a slight hand injury in the game."
#Playing through the pain, Albury was superb as he netted 22 points with four steals and four rebounds as the starting point guard to lead Sunrise Christian Academy to a 56-51 win over Putnam City.
#He eventually had to leave the game and get some treatment on the hand, but there was no greater feeling for Albury than to come out with the victory.
#"It was a good feeling to finally get back on the basketball court," Albury said. "Today's game (Saturday) was just an adjustment game for me to get used to my team-mates and the American system. It was a good game, scary in the fourth when we were down by 24, but me and my team-mates pulled through."
#Albury, whose father and mother, Denise Albury, took him out of Temple Christian where he excelled in basketball up to grade 11 to complete his senior year in the United States, said it was good to get the conditioning in and learn how to keep his composure when things are down.
#"I'm expecting a good all-around season, knowing it's my first year here," he stated. "I hope to be putting up some good numbers this year."
#The Buffaloes basketball team, coached by Luke Barnwell, are expected to return to action Tuesday.