As of Thursday, December 8, 2022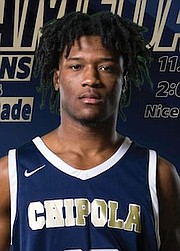 DEYTON Albury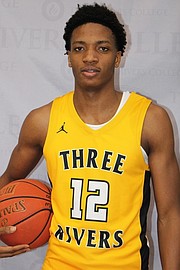 PAUL Greene
#By RENALDO DORSETT
#Tribune Sports Reporter
#rdorsett@tribunemedia.net
#THE Chipola coaching staff has raved about the contributions of its Bahamian stars as the team has continued its undefeated season and risen as high as no.4 in the national junior college rankings.
#Deyton Albury and Paul Greene led the team to wins in the first three games of their five-game road trip over South Georgia Tech, Henry Ford College and no.13 Monroe College.
#Chiploa is 13-0 on the season, their best start since the 2012-2013 team (18-0) and the coaching staff have been high on Greene's impact in his first year with the programme.
#"The thing that I think is unique and special about Paul is that he's not a guy that requires the ball to get stuff done, he rebounds, he does gritty stuff for us, he's good in our press, he gets steals and he's coachable every day so I think that's valuable when you have that in a programme," said assistant coach Lane Below.
#"We're pleased with Paul so far and I think he's getting better and better."
#Greene leads the team in rebounding at 6.9 boards per game and scored 8.5 points per game in 13 games with six starts.
#"Paul has been exceptional," head coach Donnie Tyndall said. "He's a guy that deflects balls, he gets steals, he tips the ball in, he rotates over and gets the charge, all the gritty little winning plays and that's been great to have from him."
#In his second year with the programme, Albury is second on the team in scoring at 13.5 points and second in rebounding at 6.3 rebounds per game.
#"Deyton brings it every single day," Tindall said.
#Assistant coach Jaren Harris said Albury has been the catalyst of the programme's early success.
#"We've got a bunch of tough guys in our locker room but I think every one of our guys will say he's the toughest guy in our locker room," Harris said.
#"From his dedication, to his willingness to be a great teammate, from his selflessness – he does everything on the floor for us. He's a defender, he's a rebounder, he's a scorer, he's a distributor, and he brings it everyday on the practice floor too so I think Deyton has definitely been one of our guys that has stepped up for us."
#In the 69-64 win over the South Georgia Technical College Jets, Albury finished with 16 points, seven rebounds and five assists. Greene had six points and five rebounds in 16 minutes off the bench.
#At the TCC Classic, Chipola took down the Henry Ford College Hawks 80-55.
#Albury had 10 points, four rebounds and four assists while Greene had nine points, five rebounds and three assists.
#On the second day of the TCC Classic, the Indians used a strong second half to pull away from Monroe (10-2) in battle of the NJCAA's top 10 teams.
#Albury had 10 points and seven rebounds while Green had nine points, five rebounds and a game high four steals.
#Next weekend, the Indians will play two games in the FCSAA Shootout in Melbourne, Florida on the campus of Eastern Florida State College.
#They will take on St Petersburg College on Saturday before wrapping up their road trip with Florida SouthWestern State College on Sunday.
#After a slow start to the season, Rolantae Knowles and Oswald Meadows have led the Butte CC Road Runners to a 6-6 record.
#Knowles had his fifth double double of the season last night in Road Runners' 86-81 win over Cosumnes River. He finished with 22 points and 10 rebounds while Meadows added nine points and eight rebounds.
#The win concluded a three-game winning streak over the last week that began with an opening round win at the Cabrillio Tournament, a 101-66 win over Alameda.
#Meadows finished with 17 points, four rebounds and three assists while Knowles had 16 points, seven rebounds and four assists. They followed with a 72-63 win over San Mateo. Meadows had a season high 24 point, six rebounds, five assists and two steals and Knowles finished with 11 points and eight rebounds.
#The Bahamian duo also lead Butte in both scoring and rebounding. Knowles tops the team in both categories at 16.3 points and 7.5 rebounds per game. Meadows is second on the team in both categories at 13.8 points and 5.8 rebounds per game.
#In their freshman seasons, Knowles averaged 13.7 points and 7.4 rebounds per game while Meadows averaged 6.4 points and 5.8 rebounds per game.
http://www.tribune242.com/news/2022/dec/08/albury-greene-lead-team-wins/?news