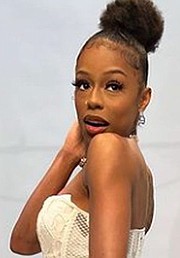 Alexis Gray
#By BRENT STUBBS
#Senior Sports Reporter
#bstubbs@tribunemedia.net
#SINCE completing her tenure at Texas Southern University in 2019, Alexis Gray decided to make the transition to wrestling.
#In January, she signed a three year NXT contract with World Wrestling Entertainment and is in Orlando, Florida where she is in training for her professional debut as "Bahama Mama" – her official stage name.
#"It's a great, great environment and great people from around the world," said Gray about her experience in training camp so far. "It's fun and very refreshing to be taking up a new style of competition."
#The 25-year-old Gray, who stands at 5-feet, 3-inches, was ranked second in the 2019 SWAC Outdoor T&F Championships, running a lifetime best of 11.68 seconds in the 100 metres.
#She has also largely been ranked in first place during the Howie Ryan Invitational held in February 2019. And she has already reflected the changes on her official Instagram account, as she now has the tags for both WWE as well as NXT on her handle.
#She admitted that the WWE was a better fit for her future aspirations and she's now done with running track.
#"I'm an exciting person and a thrill seeker," she pointed out.
#"So when I got the opportunity to become a part of NTX branch of WWE, I jumped at it. Definitely was the calling for me and I felt it in my bones."
#WWE has recently placed added emphasis on the signing and development of former college athletes, and it has used the NCAA's new name, image and likeness (NIL) rules to its advantage.
#The company started a new NIL programme called Next In Line, which allows it to sign athletes who are still competing collegiately. It puts the athletes under the WWE umbrella and allows them to learn about the world of sports entertainment before WWE decides on whether to commit to them with an official contract.
#Gray joined Raw women's champion Bianca Belair, a collegiate track athlete before signing with WWE, as she starred at the University of Tennessee, Texas A&M University and the University of South Carolina.
#Belair was a natural for pro wrestling from the start, and she has gone on to become one of WWE's top stars as a one-time Raw women's champion, one-time SmackDown women's champion and one-time women's Royal Rumble winner.
#Gray said she decided to make the transition from track to wrestling because of the success rate.
#"I can see myself going much further and much faster under conditions that allow me to maximum everything I'm capable of," Gray pointed out. "Also, I'm being compensated good for my skills."
#The St John's College standout and former member of the TWD Athletics Track, headed by Golden Girl Tonique Williams, she said she had no regrets running away from track.
#"I went out there and gave it my all," she stated. "I learned and got so much discipline from each and every one of my coaches and now that I'm here in WWE, I see why I needed it. It was all a preparation."