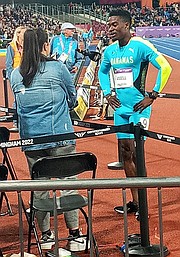 Alonzo Russell being interviewed.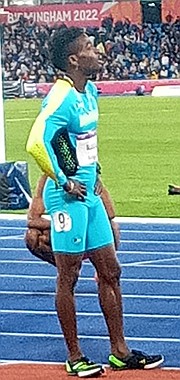 Alonzo Russell checking the replay.
#By BRENT STUBBS
#Senior Sports Reporter
#bstubbs@tribunemedia.net
#BIRMINGHAM, England: Alonzo Russell felt he gave all he had but, despite a comeback down the stretch, it wasn't enough to get a lane in Sunday's final of the men's 400 metres.
#In his semi-final run at the Commonwealth Games on Friday night at Alexander Stadium, Russell had to make up a huge deficit in lane nine coming off the final curve – but he managed to surge from sixth place to fourth.
#At the finish line, he was timed in 46.40 in the last of the three heats which was won by England's Matthew Hudson-Smith in 45.77. Russell's performance placed him 10th overall, two spots shy of getting into Sunday's final.
#"I still have to give God thanks for allowing me to recover from the flu and to bringing me to this point to run in the semi-finals," he said, noting that he under the weather when he got here. "I give God thanks for being here."
#The 30-year-old Russell qualified out of the heats on Wednesday with the 15th fastest time of 48.41. The Grand Bahama native, who has a season's best of 45.65, which was just off his personal best of 45.25,
#Russell is coming off an appearance at the World Championships in Eugene, Oregon two weeks ago when he ran with Doneisha Anderson, Megan and Bradley Dormeus for 15th place overall in the mixed 4 x 400m relay in a season's best of 3:19.73.
#Prior to this year's Commonwealth Games, Russell participated on two men's 4 x 400m relay teams that won silver in the Gold Coast, Australia in 2018 and in Glasgow, Scotland in 2012. With no relay team here, Russell was hoping to at least get in the final in the individual 400m.
http://www.tribune242.com/news/2022/aug/05/alonzo-russell-misses-out-final-place-finishes-fou/?news