Bahamas Games golf tournament at Ocean Club on Paradise Island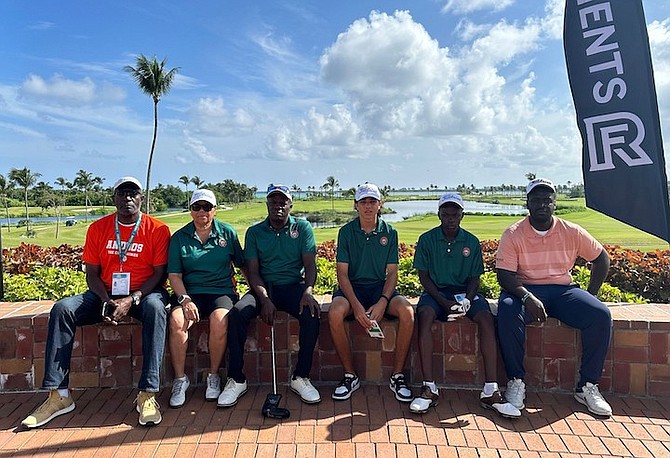 Andros Sports Council chairman Brian Clear hanging out with the Chickcharnies' golf team at the Ocean Club on Paradise Island.
#By BRENT STUBBS
#Senior Sports Reporter
#bstubbs@tribunemedia.net
#THE Andros Chickcharnies are still holding onto the lead after two days of competition in the 6th Bahamas Games golf tournament at the Ocean Club on Paradise Island.
#After taking the early lead with a total of 186 on day one on Wednesday, the Chickcharnies dropped off the pace with a 194 yesterday, but they are still out front going into today's final round with a total of 380.
#"The team is kind of strong. We have our big hitter out front in Richard Gibson Jr," said Kelsey Rolle, one of the open male competitors for the Chickcharnies, who is tied for sixth place with a two-day score of 88 (42-46).
#"We also have Kenton Forbes, who is strong as well, our females, led by Amari Pratt, are very strong and so we feel we will pull it together and get the gold. "Grand Bahama is putting in some numbers, so we have to fight them off along with New Providence, but we can do it."
#The New Providence Buccaneers have surged into second place with a total of 368 after they finished yesterday with 186. They had a 182 on day one. The Grand Bahama Lucayans slipped down to third with their rounds of 183-178 for 361. The MICAL Flamingos are in fourth with 342 (174-168); Long Island Sheep Runners in fifth with 305 (143-162); Exuma Navigators in sixth with 298 (146-152); Eleuthera Adventurers in seventh with 286 (136-150); Bimini & Berry Island Marlins in eighth with 201 (118-83) and the Abaco Survivors bringing up the rear with 162 (80-82). Tyesha Tynes, representing the Buccaneers, are still on top of the junior girls' division with 100 (51-49). She is followed by Haley Hall of the Chickcharnies with 91 (46-45) and Maddison Carroll of the Flamingos with 89 (41-48). Tynes is also out front in the ladies' open division with 86 (40-46).
#Lucayans' Michelean Poitier continues to trail with her steady performances of 39-39 for 78. Kyshna Radnetter, one of the Sheep Runners, is next with 61 (32-29).
#Adiran Stan-Busuioc of the Lucayans is still controlling the junior boys' chart with 102 (53-49).
#Zion Taylor, representing the Adventurers, is in second with 97 (47-50) and Buccaneers' Alexander Dupuch rounds out the top three with 96 (46-50).
#As for the open men's division, Richard Gibson of the Chickcharnies is out front with 109 (54-55).
#Keathen Stuart of the Survivors is second with 102 (48-54) and Raymond Gibson, a Sheep Runner, is third with 95 (45-50).The golf competition will conclude today, starting at 10am.