GB Lucayans win silver, Eleuthera Adventurers take home bronze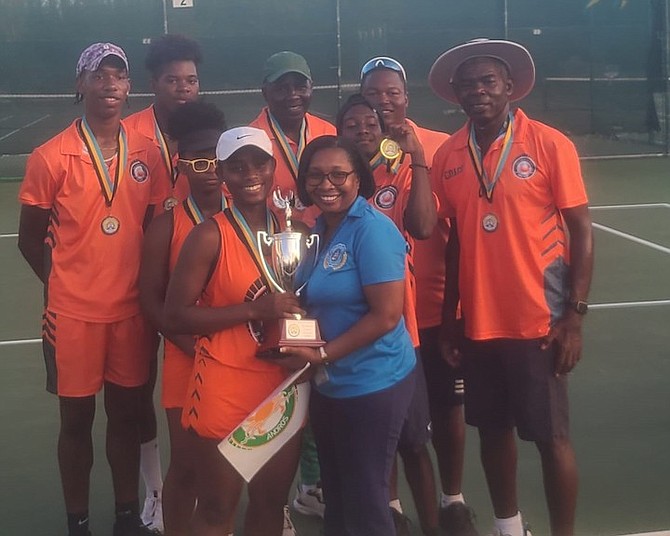 Andros Chickarnies get their gold medals in tennis.
As of Wednesday, July 12, 2023
Sydney Clarke and Denali Nottage collect their most outstanding awards in tennis.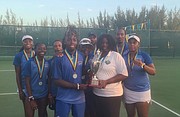 Grand Bahama with runners-up trophy and silver medal.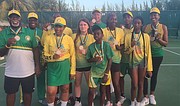 Eleuthera Adventurers with their bronze medals.
#By BRENT STUBBS
#Senior Sports Reporter
#bstubbs@tribunemedia.net
#WITH an ace down the sideline, Jacobi Bain, teaming up with fellow collegian Sydney Clarke, pulled off an 11-9 victory yesterday in the mixed doubles to seal a 4-3 win for the Andros Chickcharnies over the Grand Bahama Lucayans.
#As tennis concluded yesterday in the sixth Bahamas Games at the National Tennis Centre, the mixed doubles broke a 3-3 tie in the men and women singles, boys and girls singles and the men and women doubles in the tie.
#Bain and Clarke put the explanation mark on the gold medal for Andros with their victory over Larikah Russell and Denali Nottage from Grand Bahama.
#"I was just saying, Lord help me to make it a good one," Bain said. "If it was close, I wanted to be in the position to serve and when it was my turn, I just hit it tight on the line.
#"I was going playing doubles in the tournament, so I really wanted to help my team win."
#Although she won in doubles, Clarke also helped to win in singles and she earned the female most outstanding player award for the games. The men's award went to Grand Bahama's Denali Nottage.
#Grand Bahama's head coach Danny Rigby said it was a very competitive match, but they just fell short.
#"We had a few close calls and we will get those calls because it's tennis," he said. "It will go against you some times and today was the day that it went against us. But it was a good, competitive match."
#Russell agreed with Rigby. "I'm very impressed with the way the whole team played. It came down to the decider in the mixed doubles, which was very competitive with some amazing points," she said. "But I think we competed extremely well. We fell short, but I was very happy with our performances.'
#Russell and another veteran player Simone Pratt forced the tie breaker for the Lucayans by taking the women's doubles in set scores of 6-3, 6-1 over the youthful sister combo of Sidney and Sarai Clarke.
#That came after a thrilling finish in the men's doubles where the Andros duo of Jacobi Bain and Philip Major Jr pulled off a dramatic 6-7 (3), 7-5, 11-9 win over brothers Rasheed and Rodney Carey Jr.
#Denali Nottage got the Lucayans up and running with a 6-1, 6-1 win in the men's singles. But the Chickcharnies responded by taking the boys singles 6-3, 6-2 over Aiden Ritchie and Sydney Clarke got the women's singles 6-0, 6-4 over Simone Pratt.
#Grand Bahama came back and won the girls singles 6-4, 6-3 over Saraai Clarke.
#Looking back at the performances of the team, Chickcharnies coach Bradley Bain said they had an awesome crew that represented Andros.
#"This team came through and delivered in every way possible," he said. "We competed every day and the results speaks for itself. We played Grand Bahama and it went down to the wire.
#"It so happens that I used two players who started training with me at ages six and seven. That was Jacobi and Sydney. I put them together in the mixed doubles and they delivered."
#The Eleuthera Adventurers had to settle for the bronze medal, but head coach Artie Johnson said it was well deserved after they got by the Long Island Sheep Runners 4-2.
#"The team performed well. I appreciate all of the players and the coaches," said Johnson, who is now preparing to pass on the baton to coaches such as Juanita Percentie, Albert McKinney and Chris Evans.
#"The players, Kevin Major Jr, Zander Cromwell, Ayai Bethel, Elana Mackey, Felicity McPhee and Kaylee Kanuka, they all did a fantastic job.
#"All praise go to God, but I want to thank all of the players for a wonderful job."
#Johnson said they had a true representation of Eleuthera with players from Spanish Wells, two from Harbour Island, two from Central and one all the way from South.
#So Eleuthera is well represented."
#The Adventurers, in their win over the Sheep Runners, won the men's singles 6-1, 6-0 over Anthony Burrows Jr; Elana Mackey def. Genesis Missick 6-0, 6-0 in the women's singles; Zander Cromwell and Kevin Major Jr teamed up to win the men's doubles 6-1, 6-1 and Kaylee Kanuka and Elana Mackey won the women's doubles 6-2, 4-6, 10-4 over Sapphire Ferguson and Genesis Missick.
#But Long Island took the boys singles as Synaj Watkins won 3-6, 6-4, 10-8 over Ayai Bethel and BreAnn Ferguson took the girls singles by walkover against Felicity McPhee. The New Providence Buccaneers had to settle for fifth place with a 4-0 win over the Abaco Survivors.
#Justin Lunn took the men's singles 6-0, 6-0 over Shawn Lightbourne; Miguel Smith def. Latahj Orlando 6-1, 6-2 in the boys singles; Sierra Rodgers def. Cameel McDonald 6-3, 6-1 in the women's singles and Aryuana Davis got by Kelecia Parkes 7-6 (4), 6-1 in the girls singles.
#By virtue of sweeping the four singles, none of the doubles matches had to be played.