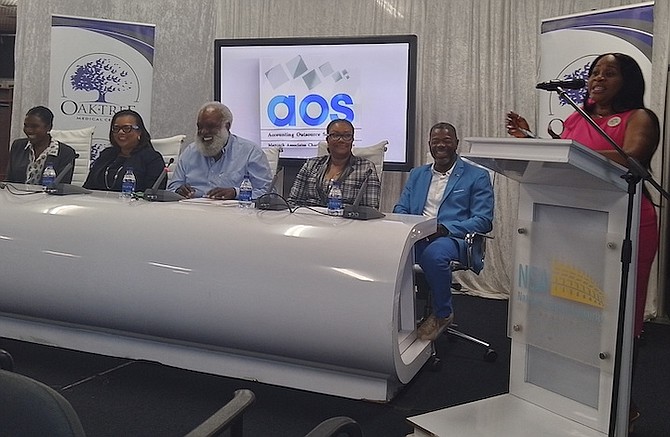 FERN HANNA, senior director of marketing and partnership, makes a funny point as Pauline Davis-Thompson, Danielle Osbourne, Lenny Smith, AOS directors Lynette and Lynden Maycock (all seated) express their delight.
As of Friday, January 20, 2023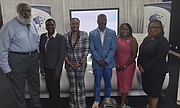 STANDING, from left to right, at the AOS sponsorship are Lenny Smith, chairman of the finance committee, Pauline Davis-Thompson, the Dame of the Games, Lynette Maycock, a director of AOS, Lynden Maycock, a director of AOS and the CEO of the LOC, Fern Hanna, the senior director of marketing and partnership of the LOC, and Danielle Osbourne, deputy chairman of the finance committee.
#By BRENT STUBBS
#Senior Sports Reporter
#bstubbs@tribunemedia.net
#LEADING by example as they put their "money where their mouth is," Accounting Outsource Services Limited came on board as a Gold Partner for the 50th Golden Jubilee CARIFTA Games.
#AOS, through Maycock Associates Chartered Accountants, led by the Chief Executive Officer of the Local Organising Committee for CARIFTA, Lynden Maycock and his wife, Lynette, made a presentation of $75,000 to the games, scheduled for April 7-11.
#The presentation took place yesterday at the Thomas A Robinson National Stadium where an appeal was made for more financial companies to come on board and lend their support to the region's biggest junior track and field competition.
#"AOS is happy to sponsor the 50th CARIFTA Games as a Gold Medalion sponsor of the games," Maycock said. "As the CEO of the games, I told my wife Lynette, we ought to lead by example.
#"If we are asking corporate Bahamas to invest in our youth and invest in our CARIFTA Games, as the head of the CARIFTA Games, it's imperative that we take the lead and lead by example."
#Maycock said the $75,000 donated to the games was a "no brainer" and they are delighted to be a part of the big event.
#Lynette Maycock, a director of AOS, said they are a financial and corporate service provider for more than 13 years that alwats believed in assisting student-athletes in athletic scholarships for high school and college.
#She noted that when her husband approached the firm to solicit their financial support, they saw it as a great opportunity and investment that will yield great returns.
#"We will be able to showcase our young athletes to the world, assisting young up and coming athletes with the gateway to training with local coaches, placing the Bahamas on front stage as we celebrate this 50th year of CARIFTA and the Bahamas 50th year of Independence," she said. "We look forward to a sea of gold medals from our Bahamian athletes. "Today, AOS is proud to sponsor $75,000 to the Local Organising Committee to assist with the operation of the 50th CARIFTA Games. We are going gold and encourage all small businesses to join us as we showcase the youth of our nation."
#Lenny Smith, the chairman of the finance committee for the LOC, who previously served as the deputy chairman of the first two editions of the World Relays, said they are happy to welcome their latest Gold partner sponsors and to appeal to other corporate citizens to get involved.
#"This year, as it has been said many times, is the 50th year of CARIFTA, 50 years of the Bahamas celebrating their Independence and as a track and field fanatic, I can boldly predict that we will have at least three world junior records set right here in the Bahamas.
#He noted that last year's Austin Sealy awardee came from the British Virgin Islands and some of the athletes from St Vincent did extremely well in the longer distance races, so it's not just Jamaica and the Bahamas dominating.
#"Again, I am appealing to corporate Bahamas to come on board," Smith stated. "Sports can solve a lot of our social problems. So, let's come out and support our athletes."
#Smith said persons who wish not to be one of the major sponsors can still make their contribution by sponsoring some of the individual races with prices ranging from $500 to $5,000 depending on the race they select. Their names will be listed as the sponsor of the particular races. "It will be on a first served, first basis," Smith said.
#Fern Hanna, the senior director of marketing and partnership, revealed that Laura's Fruit Stall was the first small business to come on board as a sponsor and so they are encouraging other businesses to sponsor the games.
#While the Oak Tree Medical Centre has already taken the title sponsor, Aliv presented a cheque for $289,000 as their platinum; gold elite is $100,000; gold medallion is $75,000, gold medal level is $50,000; silver partner is $20,000 and bronze at $10,000.
#"We want everybody to be included. We don't want anyone to feel like they can't reach that particular level," Hanna said.
#"Even if it's 10 dollars or five dollars. If it's Grammy from Mayaguana or Acklins, if you want to make a contribution, we will be here."
#Hanna said persons hearing this message and feel like they want to come on board and even if you want to be an anonymous donor, the LOC will open that opportunity next week when they can hit donate and make their contribution of any amount.
#"We want to make this a stellar event and we want to make it a stellar event together, one nation one body," Hanna said. "But let me add, it's not just for persons in the Bahamas."
#Hanna said they are encouraging persons throughout the Caribbean, the United States, Canada and any other parts of the world, who wish to get on board, to email info@carifta50.com or any social media handles @ carifta2023. or log onto their website www.cairfta50.com
#Pauline Davis, one of the six Bahamians to win the Austin Sealy Award, said it's so encouraging to see the different entities in the country stepping forth and sponsoring the games.
#Davis, the Dame of the Games, also encouraged others to come on board as they make a difference in the lives of many of the athletes in the region, who will go on to become the next Olympic Games and World Championship champions, medallists, finalists and participants from the Caribbean.
http://www.tribune242.com/news/2023/jan/20/aos-gold-partner-50th-golden-jubilee-carifta-games/?news