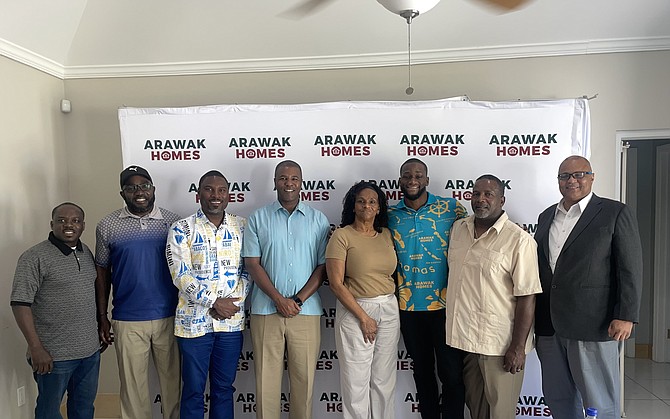 SHOW OF SUPPORT: Arawak Homes Limited has made the decision to sponsor triple jumper Kaiwan Culmer, the company's site supervisor, on his quest to qualify for the 2024 Paris Olympics.
As of Wednesday, October 11, 2023
#By TENAJH SWEETING
#Tribune Sports Reporter
#tsweeting@tribunemedia.net
#ARAWAK Homes Limited announced their decision to sponsor their fellow employee and triple jumper Kaiwan Culmer on his quest to qualify for the 2024 Paris Olympics.
#The company's site supervisor had already made the choice to turn in his resignation letter nearly four weeks ago to focus on his athletic aspirations for next year.
#However, his employer opted to keep him as an employee while also funding his journey.
#With the full financial and professional support of Arawak Homes Ltd, Culmer is ready to proudly represent The Bahamas next July.
#Franon Wilson, president of Arawak Homes Ltd, said initially the company had not known they were employing a professional athlete but after the discovery, he felt it was their corporate duty to support Culmer's athletic journey and therefore declined his resignation.
#"We said Kaiwan instead of you resigning we would wish to sponsor you in your efforts to make the Olympics, do not resign and what we would do is put you on a leave of absence," Wilson said.
#He added that the company granted him this opportunity so that he can solely focus on qualifying for the Olympics and would not have the distraction of worrying about the future of his professional career after next year's sporting event.
#While employed at Arawak Homes Ltd as a site supervisor, Culmer would have the support of his co-workers who stepped up in his absences due to his participation in sporting meets or athletic training.
#The 26-year-old expressed gratitude to everyone who supported his journey in athletics. He offered a special thanks to Drumeco Archer, president of the Bahamas Association of Athletic Associations (BAAA), Romell Knowles, president of the Bahamas Olympic Committee (BOC) along with his parents, coaches, and co-workers.
#"I thank God for just giving me this opportunity. I do not take it for granted in any which way, I think it speaks a lot to the hard work that I have put in but it is not me, it is God who has created this opportunity for me," he said.
#With the weight of his professional career now lifted and the comfort of Arawak Homes Ltd sponsorship behind him, the three-time national champion is ready to push for a new personal best in the triple jump event.
#After working with sprint coach Damarius Cash to improve his speed, Culmer will be under the tutelage of Olympian Leevan "Superman" Sands at Florida State University in Tallahassee.
#He currently has a personal best outdoor record of 16.52 metres (m) and is determined to undergo intense training to attain a new personal best over 17 metres.
#The 26-year-old talked about what led to the decision of choosing the Bahamian triple jump legend to take him to the next level. "I just thought why wouldn't it be best to go under one of the national heroes of our country who has already done it, who knows what it is to get there, and who tailored his body and put his body through that amount of stress in order to get to this level," he said.
#Although the decision to put his professional career aside to try and represent The Bahamas at the 2024 Paris Olympics was a difficult one, the triple jumper was happy it translated into a blessing. BOC president Knowles and BAAA president Archer both praised the dedication of Culmer and high corporate values of Arawak Homes Ltd.
#"Arawak Homes today [and] their social responsibility as a company speaks volumes in our corporate world. And I wish other companies will join the likes of Arawak Homes and I want to congratulate you on your corporate social values in terms of sponsoring athletes," Knowles said.
#Archer acknowledged that the sponsorship by Arawak Homes Ltd was great as they understood Culmer's sacrifice of his professional endeavours for a greater opportunity.
#"It is also a story about a company like Arawak Homes, for a company to recognise how profound that sacrifice is and for people to appreciate the depth of that sacrifice, to set aside one's capacity to make money all for the glory of track and field and for the glory of the country," the BAAA president said.
#Culmer is dedicated and passionate as he embarks on a mission to achieve greatness in Paris next year.