As of Thursday, August 18, 2022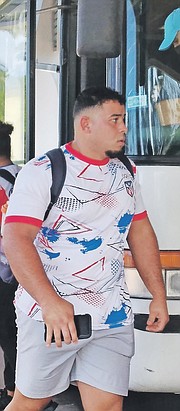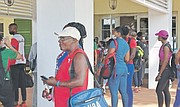 #By DENISE MAYCOCK
#Tribune Freeport Reporter
#dmaycock@tribunemedia.net
#AS athletes from around the world continue to arrive in Grand Bahama for the NACAC Championships, members of Team Bahamas participated in a motorcade through the City of Freeport on Wednesday.
#Some 40 athletes from The Bahamas will be competing at this year's championships at the Grand Bahama Sports Complex, August 19-21.
#The motorcade left the Lucaya area around 4pm. Three flatbed trucks, outfitted with Team Bahamas banners, were escorted by members of the Royal Bahamas Police Force.
#It is hoped that the motorcade would bring some hype to draw support from the Grand Bahama community.
#As the procession made its way to the downtown area on Pioneer's Way, spectators greeted the athletes and waved their Bahamian flags.
#The motorcade also travelled as far as Queen's Highway. The route also included areas of West Mall Drive, West Atlantic Drive, East Mall Drive, Coral Road, and East Sunrise Highway.
#The motorcade ended at the Port Lucaya Marketplace, where a Cultural Explosion was held for the athletes.
#Athletes from Mexico and Cuba arrived on Wednesday. Most of the competitors are being accommodated at the Grand Lucaya Resort.
#This is the first time that a major athletic event such as the NACAC Championships is being held in Grand Bahama. It is expected to set the stage for future events as the island seeks to become "the events and entertainment capital of The Bahamas".
#Photos: Denise Maycock/Tribune Staff
http://www.tribune242.com/news/2022/aug/18/athletes-arrive-nacac/?news