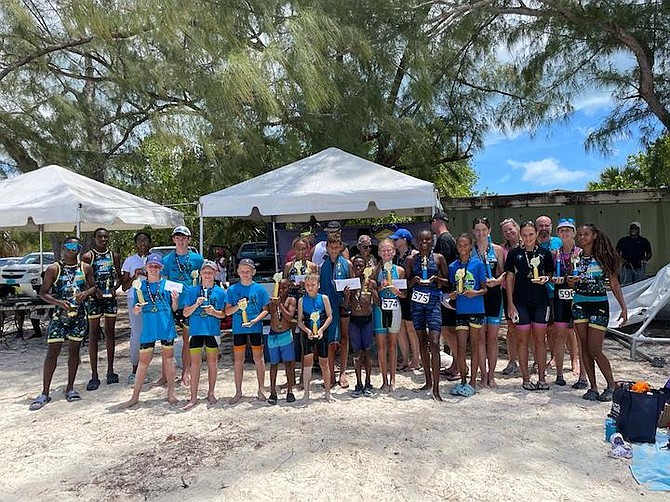 YOUNG TRIATHLETES with their medals and trophies after the Bahamas Triathlon Association hosted the Sea Waves Triathlon yesterday at Jaws Beach. Photo: Tenajh Sweeting
Photo Gallery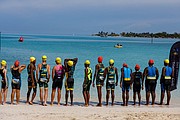 Photos: Austin Fernander/Tribune Staff
#By TENAJH SWEETING
#tsweeting@tribunemedia.net
#The Bahamas Triathlon Association hosted the Sea Waves Triathlon yesterday at Jaws Beach. It was the second of three qualifying events for the CARIFTA and Junior Commonwealth Games.
#Yesterday's triathlon event saw a few athletes qualify for both games. The day featured competitors in the 8 and under, 9-10 boys and girls, 11-12 boys and girls, 13-15 boys and girls, 16-19 boys and girls and individual sprint divisions.
#Athletes competing on the day earned points to help build their rankings, which helps them to be selected for the CARIFTA team. In the 16-19 boys youth triathlon, which included a 400 metre swim, 10 kilometre bike, and 2.5 kilometre run, Launy Duncombe brought home a first place finish. The young athlete notched a 33:41 in the event and qualified for the Junior Commonwealth Games as well.
#Second place finish belonged to Enea Gervasini who came in behind with 38:02. Barron Musgrove Jr joined the fray for third place after clocking 39:58.
#Duncombe talked about how it felt to get the win and to qualify for the games. "It feels good. I know I have some stuff I have got to work on but overall I have to start adjusting my diet, workouts and pressure that I put on myself to get better," Duncombe said. Although he knows he has some adjustments to make, the young athlete added that overall it was fun to compete with comrades especially in the cycling portion of the triathlon.
#For the 16-19 girls, Erin Pritchard along with Kami Roach both qualified for the Junior Commonwealth games. Pritchard came out on top with a first place victory after finishing 37:43. Roach joined her in second place in the event with 37:57. Anjaleah Knowles joined the pair after securing third place with 45:49.
#Pritchard said all three events were really good for her. She said the swim was good because the water was calm, it was not windy so she was able to keep a good pace cycling, and on the run she gave it her all to finish strong.
#Roach was also very pleased with the way she competed and was especially proud of the cycling part of the triathlon.
#Malcolm Menzies, brought home the victory in the 13-15 boys youth triathlon. He emerged with a first place finish after clocking 32:32 in the race. Menzies was joined by second place finisher Ayden Bain who not only notched 36:33 but also qualified for the junior commonwealth games. Jayden Smith finished behind the two with 42:44.
#Bain said he felt good competing in all events of the triathlon and really felt as if his practicing paid off however, he felt that he could have paced himself better in the run. The young athlete added that he is excited about qualifying for the games and CARIFTA.
#For the girls, Issa Bournas brought home the victory after finishing with 42:15. Taylor Knowles finished behind with 49:35 and Chelsea Smith clocked 53:21 respectively.
#Lauchlin Menzies claimed first place in the 11-12 boys triathlon after completing a 200m swim, 5k bike, and 1.5k run. Second place finisher was Sobby Fynn Potter who finished with 17:43. Mathis Bournas followed behind for third.
#Nai'a Belton led the way for the girls. Belton blitzed the competition in the trio of events with a time of 18:23. She was joined by Taylen Nichols who finished second and Veranique Strachan with third position in the event.
#For the 9-10 boys youth triathlon, Stafford Sweeting secured a first place finish with 12:09. Additionally, Caiden Bain booked a first place finish with 14:20 in the 8 and under boys triathlon.
#The event's overall winners for the sprint triathlon which included a 750m swim, 20k bike, and 5k run were Christopher Carter and Suzy Eneas.
#Carter talked about how it felt to be victorious.
#"This is a lot of fun this is really well organized, intimate, and I had a great time," he said.
#Among more of the day's top performers were Cameron Roach, and Simon Townend. Roach placed first in the 40-49 individual sprint triathlon and Towend was the only 50 and over male competitor.
#The Bahamas Triathlon Association's next qualifying event will take place on Goodman's Bay May 6.
http://www.tribune242.com/news/2023/apr/24/athletes-qualify-carifta-triathlon/?news