As of Monday, January 16, 2023
#By BRENT STUBBS
#Senior Sports Reporter
#bstubbs@tribunemedia.net
#As the collegiate indoor track and field season officially got underway over the weekend around the United States, a number of athletes – coming off injuries and making their debut for their respective schools – shined in their individual events.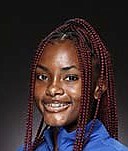 ANTHAYA CHARLTON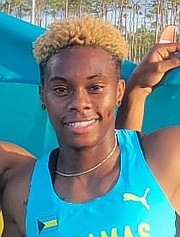 Devynne Charlton
#Charlton shines in Lexington
#In her return to action after an injury last year, University of Kentucky's sophomore Anthaya Charlton took the spotlight from her older sister Devynne Charlton at the Rod McQuary Memorial at the Nutter Field House in Lexington, Kentucky.
#Charlton, in her sophomore year, soared 20-feet, 3 ½-inches or 6.18 metres to win the women's long jump. Her nearest rival was Taylor Hampton, a sophomore at Kennesaw State, with 19-1 ½ (5.83m).
#Charlton also competed in the 60m, placing eighth in the final in 7.56.
#Devynne Charlton, who is coming off a long season that saw her pick up a pair of international medals, made the final, but opted not to compete. She ran 7.45 for third in the semifinal.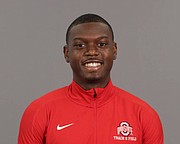 Adrian Curry
#Charlton, winner of the World Athletics' World Indoor Championships' silver medal in the 60m hurdles and silver at the Commonwealth Games, had to settle for second in the women's 60m hurdles in 7.98. The winning time was 7.88 by Kentucky senior Masai Russell.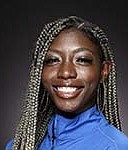 MEGAN MOSS
#Megan Moss, a junior at Kentucky, got sixth in the women's 400m in 54.85. Her former team-mate Abby Steiner, now competing for Puma, won the event in 52.70. Steiner was the top American 200m sprinter last year in her senior year at Kentucky.
#And Adrian Curry, a senior at Ohio State, was seventh in the semifinal of the men's 60m in 6.90, but he opted not to participate in the final.
CHARISMA TAYLOR
#Taylor and Walcourt take the spotlight
#At the Clemson Invitational, Charisma Taylor picked up a third place finish in the women's 60 metres hurdles as she got her indoor season started on the right track in her senior year at the University of Tennessee.
#Coming off an injury that prevented her from completing her outdoor season last year, Taylor clocked 8.20 seconds to trail winner Anna Hall of Adidas in 8.18 and Jayla Hollis, of Florida, who did 8.19.
#Taylor was also featured in the women's 200m with Wendira Moss. Taylor got 13th in 24.46, while Moss, competing for Northern Colorado, was 17th in 24.87.
#Also at the meet, Javonya Walcourt, a freshman at Tennessee, came through for second place in the women's 400m in 54.24. Moss was sixth in 66.44. Arianna Sharpe of Auburn won the event in 53.01.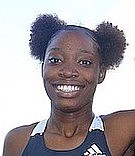 LACARTHEA COOPER
#Cooper in fine form
#After sitting out the last half of the season because of an injury, St Augustine's College graduate Lacarthea Cooper got in her first action in her new school at New Mexico Junior College.
#At the Texas Tech University Corky Classic at the Sports Performance Center in Lubbock, Texas, Cooper earned a third place finish in the women's 400m in 54.91. The winning time was 53.51 by Iimacbong Nse Uka, a sophomore at Baylor, while Nayanna Dubarry-Gay, a junior at Texas Tech, was second in 54.63.
#Cooper also anchored New Mexico women's 4 x 400m relay team to a second place finish in 3:42.39. Baylor took the tape in 3:37.22.
#Karon Dean, competing for UTEP, was fourth in the final of the men's 60m in 6.66. The race was won by JT Smith of Tamu-Commence in 6.60.
#Rutherford in top five
#At the Arkansas Invitational in Fayetteville, Arkansas, Texas A&M sophomore Camille Rutherford was fifth in the women's 200m in 24.01 seconds.
http://www.tribune242.com/news/2023/jan/16/athletes-shine-usa/?news