Avard'S Mother Dies After Battle With Coronavirus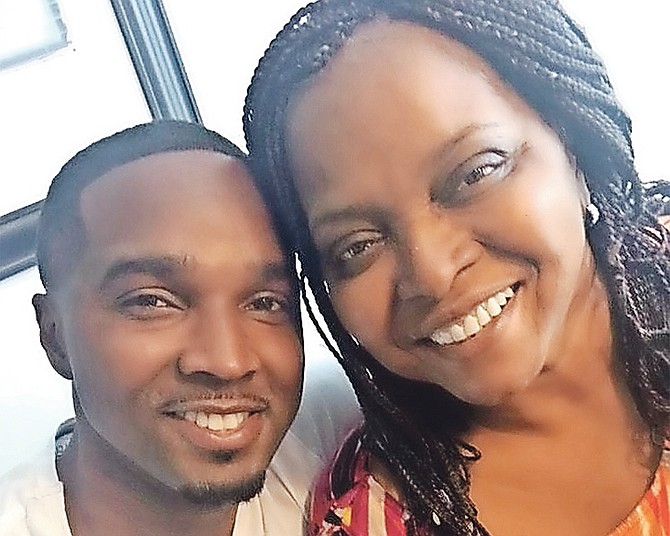 Avard Moncur and his mother, Ramona Moncur.
#By BRENT STUBBS
#Senior Sports Reporter
#bstubbs@tribunemedia.net
#Avard Moncur, the first Bahamian male athlete to win a World Championship title on the track, could only reflect on the good times that he shared with his mother, Ramona Moncur, after she passed away from COVID-19 yesterday.
#In Atlanta, Georgia, where he serves as a programme coordinator at Georgia Tech, Moncur said the news hit hard when he was told that his 60-year-old mother died in the wee hours at the South Beach Clinic where she was receiving treatment for her respiratory system.
#"She was the love of my life. She was everything that made me who I am," said Moncur, who mourns along with his six brothers and one sister.
#"She was compassionate, sweet, generous and someone who was never afraid to support people. She was never judgemental, regardless of who they were. She always had a smile on her face. She was a fighter all of her life and even in going through this pandemic, she was fighting for her life."
#Moncur was always around the Thomas A Robinson Track and Field Stadium when her tall, lanky son was a star for the SC McPherson Sharks and was a three-time gold medallist in the 400m from 1995-1997.
#When he left for Auburn University where he continued to excel as a member of the Tigers' track team, winning the NCAA title back-to-back in 2000 and 2001, Moncur always boasted and bragged about her son's accomplishments.
#Moncur, who made his international breakthrough as a senior athlete at the Pan American Games in Winnipeg, Canada in 1999, went on to secure a gold medal in the men's 400 metres in 2001 at the World Championships and was also a member of the winning 4 x 400m relay team.
#The four-time Bahamian national champion who held the national record at 44.45 seconds until it was broken by Chris 'Fireman' Brown, also ran on the Bahamas' 4 x 400m relay team that captured a bronze medal at the Olympic Games in Sydney, Australia, in 2000.
#Moncur, who turns 42 on November 2, was also on three other medal winning teams at the World Championships in 2005 in Helsinki, Finland and 2007 in Osaka, Japan (silver) and 2003 in Paris-St Denis, France (bronze). He also won a Commonwealth Games' bronze medal in 2002 in the 400m in Manchester, England.
#Additionally, Moncur also ran on the gold medal teams at the Pan American Games in Rio de Janeiro, Brazil in 2007 and the Central American and Caribbean Championships in Mayagüez, Puerto Rico in 2011.
#In all of his success, Moncur said his mother was right there supporting him, either on the sidelines or via a telephone call, which made it so hard for him when he found out that she had tested positive for the coronavirus.
#"The reality is my mother did everything to protect herself and a lot of times people want to do whatever they want to do and not take in consideration the people they come in contact with," he said.
#"But there are a lot of people who may not have your best interest at heart and have some underlying disease that may be detrimental to them, so you can't be selfish.
#"It's not just about you, but the community as a whole. People just have to be more compassionate and considerate and not just think about yourself, but the community as a whole."
#Calling this the most dramatic experience that he's had to endure, Moncur said he's now trying to take the necessary COVID-19 testing so that he can return home for the burial of his beloved mother in the next few weeks.