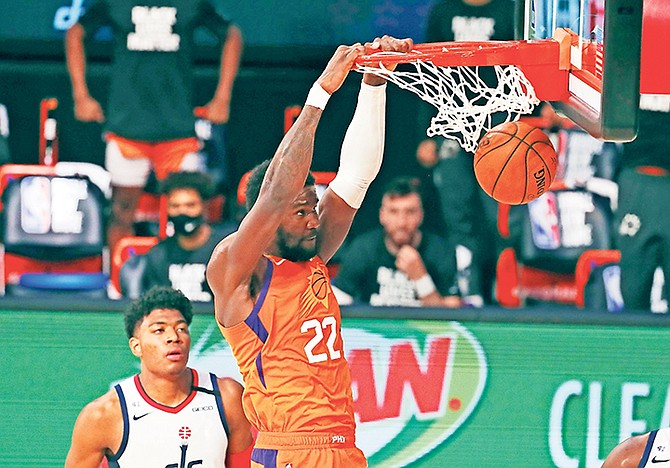 Phoenix Suns centre Deandre Ayton (22) dunks the ball as Washington Wizards forward Rui Hachimura looks on during the second half of an NBA basketball game Friday, July 31. (Kim Klement/Pool Photo via AP)
#By RENALDO DORSETT
#Tribune Sports Reporter
#rdorsett@tribunemedia.net
#DEANDRE Ayton and the Phoenix Suns have been the biggest surprise of the NBA restart with an undefeated record thus far including back-to-back wins over playoff teams.
#Ayton has averaged 16.6 points and nine rebounds per game through the three game stretch as the Suns improved to 29-39, two games behind the Portland Trail Blazers in the win column for the ninth spot in the Western Conference playoffs.
#"I still don't think we get respect, but I don't care," Ayton told reporters following Tuesday night's 117-115 win over the Los Angeles Clippers, "We just go out there and play for each other. We stay together in bad times. Kept chipping, kept chipping and it went our way."
#The second year centre said that while few pundits expected the team to make an impact, the Suns have found ways to defy the odds early.
#"Locking in. There's nothing else to do here in the Bubble. Being there for each other. Us building with each other, seeing each other every day. It's genuine, it's real," he said, "That's coach's system: sharing the ball. When we move the ball around, everybody eats."
#The Suns look to continue their streak today against the also undefeated Indiana Pacers at 4pm. They go on to face the Miami Heat (August 8), Oklahoma City Thunder (August 10), Philadelphia 76ers (August 11) and the Mavericks for a second time (August 13).
#"Those guys just grew up tonight," Suns head coach Monty Williams said following the win, "(The Clippers) sent everything at us. It's an amazing feeling, and yet I'm already turning the page. That's the mentality we have to have.By the time I got to the timeout (after conferring with the coaches first), the players had already talked themselves through the terminology and reads. I thought the shots that (the Clippers) got tonight were tough shots. I'm thankful. To be able to win in this environment is pretty cool."
#On Ayton's development, Williams said his defensive effort continues to improve.
#"He's a guy that can be Defensive Player of the Year, I really believe that and I hope he just continues to grow in that area." Williams told the Arizona Republic, "It's early, but I think he's becoming more disciplined and keeping his hands up on defense. He's calling out stuff earlier. His conditioning is much better than it was so you're seeing him sprinting back."
#One of the major talking points of Ayton's improvement has been his three point shooting, which he credits to Williams' system giving him the confidence to take those shots from long range.
#After shooting 0-7 through the first 101 games of his NBA career, Ayton has shot 3-6 on three point field goals over the three games in the Orlando clean site.
#"I can say I've grown up in a way to where I'm just not being a robot running the play. I'm the playmaker when I got the ball, for real, and just me seeing the type of dominance and the type of effect I have on both sides of the floor affects the whole game and the whole team has bought in," Ayton said, "I'm a basketball player. That's the type of stuff you have to work on to play in the NBA. I've been working on this thing my whole life. I could've been shooting (the 3). It's just I'm more comfortable with the system surrounding me to make me shoot the shot."