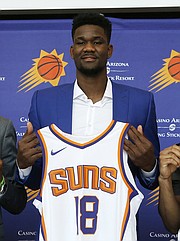 Phoenix Suns' Deandre Ayton poses for a photo as the team introduces their top pick after the NBA basketball draft on Friday, June 22, 2018, in Phoenix. (AP Photos/Ross D Franklin)
#By RENALDO DORSETT
#Tribune Sports Reporter
#rdorsett@tribunemedia.net
#AN eager Phoenix Suns fan base was officially introduced to Deandre Ayton and expectations already loom large for the first No.1 overall NBA draft pick in franchise history.
#Ayton and other members of the Suns' 2018 Draft class – Mikal Bridges, George King and Elie Okobo – were introduced to the organisation Friday at the Talking Stick Resort Arena.
#One of the main headlines emerging out of the press conference, Ayton revealing that he is likely to wear No. 22 for the Suns.
#The top overall pick comes with expectations of leading a franchise and the Bahamian star appears ready to do so in Phoenix.
#"I embrace it a lot. Throughout my career I've always had a chip on my shoulder when it comes to expectations knowing I represent an entire nation (the Bahamas)," he said. "Coming in I want to set the tone. I know I'm coming in as a rookie but that doesn't mean I don't mean business on the floor as well."
#The Suns have a new regime at the helm with new head coach Igor Kokoskov.
#"I think he's going to be one of the elite defenders in this league," Kokoskov said. "He can match everything other big guys can do right now in the league."
#With Ayton's selection, the Bahamas now joins the United States, Canada, Nigeria and Australia as the only countries with multiple No.1 overall NBA draft picks.
#It also represented the first No.1 pick made by the Suns in franchise history and the first No.1 pick from the University of Arizona.
#Ayton also previously participated in Basketball Without Borders (BWB) Global 2016 in Toronto, Canada and joins Andrea Bargnani (Italy; BWB Europe 2003; 1st overall in the 2006 NBA Draft) as the highest drafted former Basketball Without Borders campers ever.
#He is the ninth consecutive college freshman to be selected with the first overall pick.
#The Suns have drafted as high as second twice, in 1969 and 1987. They finished the 2017-18 season 21-61 but return a promising young core led by rising star guard Devin Booker who averaged nearly 25 points per game last year.
#Ayton previously mentioned the prospects of teaming with Booker to create one of the league's most dynamic tandems.
#During his lone season at Arizona, Ayton led the NCAA with 24 double-doubles, a PAC-12 freshman record.
#He averaged 20.1 points and 11.6 rebounds per game while shooting 61.6 per cent from the field, and was "Karl Malone Power Forward" of the year consensus First Team All-American.
#Ayton was one of only four players in the nation to average the aforementioned double double.
#He was also Pac-12 Conference Player of the Year, Freshman of the Year, All-Defensive Team selection and Most Outstanding Player of the conference tournament.
#The first player in conference history to win all awards.