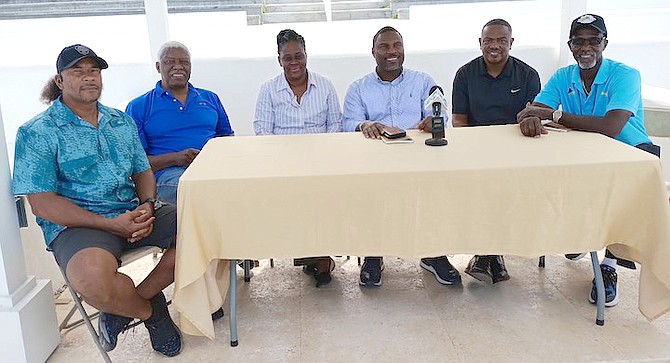 SHOWN, from left to right, are David Ferguson, Mike Sands, Nicara Curtis, Drumeco Archer, Floyd Armbrister and Foster Dorsett.
As of Friday, November 10, 2023
#By BRENT STUBBS
#Senior Sports Reporter
#bstubbs@tribunemedia.net
#IN collaboration with the Ministry of Education, Science and Technology, the Bahamas Association of Athletic Associations will hold its National High School Cross Country Championships at the refurbished Fort Charlotte on Saturday, November 25.
#As a mandate of president Drumeco Archer, committee chairman Foster Dorsett said they are committed to putting on one of the best championships, which Ministry of Education's sports consultant Floyd Armbrister said the ministry fully supports.
#"One of the mandates that was set by the Minister (Glenys Hanna-Martin) when she brought me in, was for us to get the students into the sporting arena and to make sure that they get back to action, competing in each sporting discipline. "At the end of each sporting discipline, she wanted us to create a national championship and September came around and the BAAA came and said they wanted to collaborate with the ministry to put on the National High School Cross Country Championships.
#"So this is a blessing in disguise for the ministry because we want to collaborate with the BAAA because there's nothing like the power of sports where children can use their energy in a positive way. So we are on board with the BAAA in hosting one of the finest National High School Cross Country Championships."
#Archer said while there's a general view those sports lie with the Ministry of Youth, Sports and Culture, but admittedly so, they are our perennial partners, but equally so because of the junior component, sports touches the Ministry of Education and so it's a giant step for the BAAA in forging a strong relationship with the Ministry of Education.
#"We always like team sports, like basketball," Archer said. "Cross country gives you that opportunity to run with your team. With each group having a