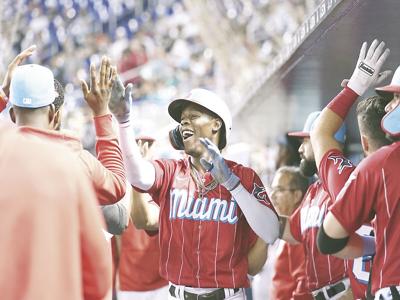 Bahamian professional baseball player with the Miami Marlins Jasrado 'Jazz' Chisholm Jr. had another strong season in Major League Baseball (MLB).
The Marlins' center fielder wrapped up his fourth season just over a week ago as the Marlins bowed out in the National League wild card playoffs to the Philadelphia Phillies.
Back in The Bahamas, Chisholm reflected on the season and looks ahead to next season.Uclosehttps://imasdk.googleapis.com/js/core/bridge3.596.0_en.html#goog_1696393898Ad 1 of 1 (0:15)NextStay
The Bahamian holds himself to a very high standard. Although he was instrumental for the Marlins in the 97 games that he played in, he feels that he could have played better.https://8765adaaa3c4bd4b8eaebab5684347de.safeframe.googlesyndication.com/safeframe/1-0-40/html/container.html
"Personally, if I don't play 140 or 150 games, nobody would ever see my potential," Chisholm said. "They only see half of it. For me, it's just that every time I don't get to 150 games, I feel like I had a bad season. I played just over 90 games this year and had 19 home runs. That's okay for a regular player, but I'm not a regular player. For me, I feel if I play 140 games, that's 40 home runs."
Chisholm ended the regular season just one home run shy of a 20-20 season. He batted .252 with 19 home runs and 52 RBIs (runs batted in). He had 22 stolen bases, one short of his career high in that department, an on-base percentage of .305 and a slugging percentage of .462 for an on-base plus slugging percentage of .767.
The Bahamian played more games this season than the previous season when he played 60 games. He was on the injury list three times and will look to stay off that list next season.
Chisholm played a role in getting his team to the
postseason. One of the highlights for him was hitting grand slams on back-to-back days against the Atlanta Braves just days before the regular season concluded, becoming the first player in Marlins' history to hit grand slam home runs in back-to-back games. The Marlins were swept 2-0 by the Phillies in the National League wild card playoffs.
"Those games were crazy in Philadelphia. The people in Philly, the fans out there going crazy. That's the loudest I've ever heard in a stadium in my life," Chisholm said.
Chisholm struggled but he and the Marlins plan on making the postseason again in the not too distant future.https://8765adaaa3c4bd4b8eaebab5684347de.safeframe.googlesyndication.com/safeframe/1-0-40/html/container.html
"We plan to do it again. Now we know what it takes to get there, so we're going to just get there again. Now, we know what it takes to win and we see how we have to play and who we got to play against to win. I feel for us, we just took it as an experience," Chisholm said.
LoanDepot Park in Miami, Florida, is where the Marlins play their home games and it has been the venue of more and more fans in recent seasons. A small part of it has to do with the larger than life personality of Chisholm who has brought style and flair to Miami.
"The fans are coming out now and the stadium is rocking," he said. "I feel like since we've gotten to the playoffs this year, it showed Miami that we're not the old Marlins that were led by other people. The vibe is different, the clubhouse is different, the staff is different and the players are different. We're coming out to rock every night. Honestly, we feel like we are like artists out there more than anything else because we're coming to entertain everybody. We play fun baseball and I feel like Miami is starting to live with that."
This past season, Chisholm was moved from playing second base and shortstop to center field. It was a change he acclimated himself to after a while.
"I feel like it got easier from the first month in spring training. When I got into the season, it just clicked and it started coming together in games. Being a person that just loves to compete and be out there, I take it to heart when I'm not the best person out there. I had to flip a switch and feel it out," Chisholm said.https://8765adaaa3c4bd4b8eaebab5684347de.safeframe.googlesyndication.com/safeframe/1-0-40/html/container.html
So far, Chisholm is spending his offseason wearing a walking boot on his right foot after undergoing 'turf' toe surgery last week Tuesday. Chisholm said it went well and he should be back running in January. He initially suffered the injury in May of this year, and is expected to be back to baseball activities by early next year.