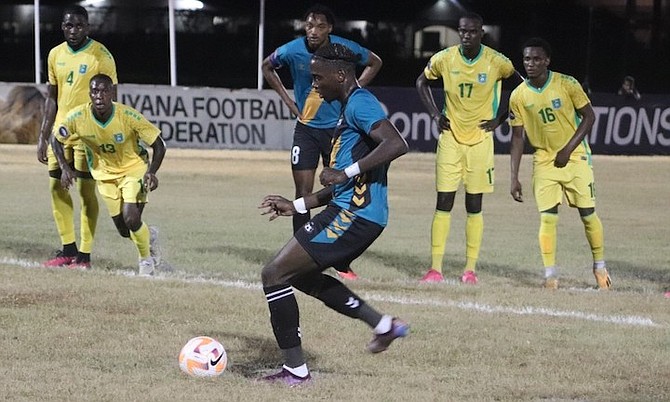 Team Bahamas in action against Guyana during last night's Nations League match.
As of Wednesday, September 13, 2023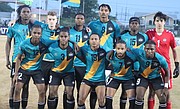 #By BRENT STUBBS
#Senior Sports Reporter
#bstubbs@tribunemedia.net
#THE Bahamas men's national soccer team put up a gallant fight, but lost 3-2 to Guyana for their second straight loss in the CONCACAF 2023 Nations League.
#After falling 6-1 to Puerto Rico on Saturday in their opener at the Thomas A. Robinson National Stadium, the Bahamas team took to the road in the home-and-away format and played their first match against Guyana on Tuesday night.
#With a slightly different line-up from the one they used against Puerto Rico, the Bahamas once again struck first as Wood Julmis came through with the initial goal of the game in the 39th minute. He scored the team's only other goal in the 86th minute.
#Guyana, on the other hand, responded with the 1-1 equaliser in the 44th minute on a goal from Omari Glasgow. Stephen Duke-McKenna put Guyana up 2-1 in the 54th minute and Kelsey Benjamin scored the insurance goal in the 58th minute.
#Despite the loss, coach Nesly Jean said he was pleased with the team's performance.
#"We played well. We played very well," he said. "Defensively, going forward, obviously we made one or two mistakes. This is the stuff we are trying to eliminate. I think once we can eliminate that, we will do better going forward."
#On the change in the line-up for last night's game, compared to Saturday, Jean said it's automatic, when one person can't show, it's the next man up.
#"You have to show the coaches why you deserve to play and why you deserve to be on the team," he said. "The guys today showed that they can compete if someone was to get injured."
#The Bahamas will now prepare to face Antigua & Barbuda in November with the first game at home and the next one on the road. That will be followed by a home match against Guyana before they close out play on the road against Puerto Rico.
#Meanwhile at the Thomas A. Robinson National Stadium, Puerto Rico, staying here to play their home game against Antigua & Barbuda on Tuesday night, pulled off a 5-0 whitewashing for a 2-0 record. Antigua & Barbuda suffered their second straight loss.
#Gerald Diaz struck for a hat-trick with goals in the 15th, 46th and 90th minutes. Ricardo Rivera added a pair of goals in the 39th and 43rd minutes.