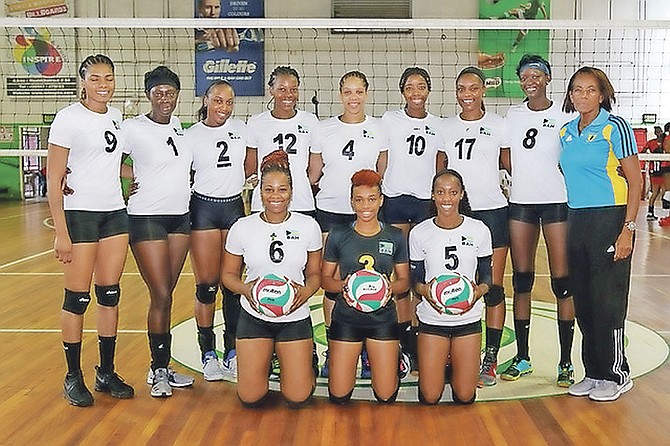 TEAM Bahamas at the Caribbean Zonal Volleyball Association Women's Championship in Paramaribo, Suriname.
#By BRENT STUBBS
#Senior Sports Reporter
#bstubbs@tribunemedia.net
#FOR the second time in two straight games, the Bahamas met Barbados, this time losing the bronze medal as the CAZOVA (Caribbean Zonal Volleyball Association) Women's Championship concluded last night at the Ismay van Wilgen Sport Hall in Paramaribo, Suriname.
#The Bahamas lost a marathon 25-23, 21-25, 25-19, 24-26 and 16-14 decision to finish fourth – carting off four individual titles as Brittany Deveaux and Ashley Webb were awarded the number one and two blockers respectively, while Rachel Knowles was the best opposite player right side hitter) and best digger was Chandra Mackey.
#Trinidad & Tobago won the gold medal, beating host Suriname in three straight games.
#Head coach Covance Mortimer said it could have easily been the Bahamas playing for the gold, but they are content with their fourth place finish, considering that it was a relatively young team that they took to Suriname for the tournament.
#Despite the make-up of the team, Mortimer said the players performed at their best.
#"The team performed at a very high level, especially since we got off to a slow start," Mortimer said. "We came back with a lot of resilience and was able to fight right to the end. So I'm very happy with the team effort."
#With a team averaging about 19-20 years of age, Mortimer said it showed in their performances in certain game situations.
#But he said they kept their composure and even though they didn't get into the final, they will enjoy the third place finish.
#He said they will now have to go back to the drawing board and get prepared for the Caribbean Volleyball Championships.
#The team is expected to return home today and Knowles said they will enjoy the fourth place finish.
#"I felt we did well, considering the circumstances because a lot of us are in school and so it took us a little while to get used to playing with each other again," she said. "But I felt that everybody did the best that we could. We didn't get the gold that we came here to achieve, but we wanted to take the bronze."
#On winning her award, Knowles said she was pleasantly surprised.
#"I wasn't thinking about it, so it was good," she admitted. "Everybody felt it would have been better playing in the championship, but we just missed it."
#Prior to the playoffs, Team Bahamas lost its first two games to Trinidad & Tobago and Suriname before rebounding to close out the round robin with a win over Barbados.
#In the tournament opening game against Trinidad & Tobago, the Bahamas was beaten 25-16, 25-12 and 25-12 in a game that assistant coach Margaret 'Muggy' Albury had to fill in for head coach Covance Mortimer, who had a flight delay into Suriname.
#Mortimer arrived in time for their second match-up against Suriname, but the Bahamas still suffered a 25-12, 25-23 and 25-19 as Melinda Bastian led the way with 10 points for her outside hitting attacks.
#And after the two losses, Team Bahamas took their frustration out on Barbados with their 25-14, 25-20 and 28-26 decision as Bastian once again paced the attack with 11 points and four passes and digs