As of Wednesday, March 1, 2023
Photo Gallery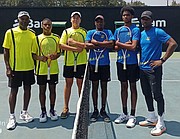 #THE Bahamas Junior Davis Cup team defeated Barbados 3-0 yesterday at the Central America and Caribbean Jr Davis Cup pre-qualifying event in Guatemala.
#Jackson Mactaggart and Jerald Carroll both won their singles matches in identical scores of 6-1, 6-1 and William McCartney and Mactaggart teamed up to take the doubles 6-2, 6-3 for the sweep.
#The team, coached by Bradley Bain, will be back in action today when they take on Nicaragua.