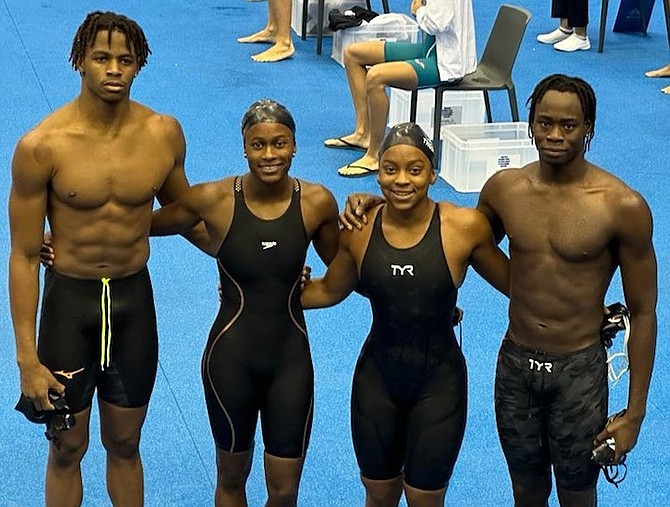 THE Bahamas' swim team, from left to right, Lamar Taylor, Rhanishka Gibbs, Zaylie-Elizabeth Thompson and Davante Carey at the FINA World Aquatics Championships in Fukuoka, Japan.
#By BRENT STUBBS
#Senior Sports Reporter
#bstubbs@tribunemedia.net
#THE Bahamas' four-member team of Lamar Taylor, Davanta Carey, Rhanishka Gibbs and Zaylie-Elizabeth Thompson closed out competition at the FINA World Aquatics Championships in the mixed 4 x 100 metre relay with a 27th place overall in Fukuoka, Japan.
#The quartet, who were a part of the contingent to the Commonwealth Games in Budapest, Hungary, last year, was fifth in the third of five heats in three minutes and 43.29 seconds on Saturday for their second consecutive national record-breaking performance.
#The same team also lowered the national record in the mixed 4 x 100 medley relay where they placed 24th overall in 4:03.98 with Taylor leading the way with his own national record-breaking feat on his opening leg of the 100m backstroke in 55.03.
#"Competing with my Bahamian teammates was fun," Taylor said. "Just being able to beat one of the highest levels of competition and swimming against some of the best in the world is amazing."
#In his final individual event on Saturday, 20-year-old Taylor finished 17th overall in the men's 50m backstroke in 52.12 for his highest placing.
#He added the feat to his 28th in the 50m freestyle in 22.26 for another national record and 40th in the 50m butterfly in 23.91 earlier during the week.
#"I would say that my performance was really good, a few upsets but overall I'm not mad about them," said Taylor. "It just shows that I have a little more way until I surpass my goal. I would say that I enjoyed my 50 fly the most. The fly is a stroke I get to swim much lately so being able to swim and perform well and drop time made me happy."
#Taylor also got some inspiration as he watched his mother Gena Culmer-Taylor making history as the first Bahamian female to officiate at a World Swimming Championships.
#"I feel very proud and I know she is proud of her accomplishment," Taylor said of his mother.
#With the summer competition now over, Taylor said he will try to get some rest and recover and prepare for his senior season at Henderson State University where he is coached by Scotty Serio and is majoring in health and human performance.
#The other three competitors also faced off in a pair of individual events as well.
#In his final event in the men's 100m butterfly on Friday, Carey, 21, was 52nd in 55.48. He also was 47th in the men's 100m backstroke. Carey is now heading to McKendree University where he will be entering his senior year for the Bearcats swim team.
#Gibbs, 17, had her final event on Saturday in the women's 50m freestyle where she was 51st in 26.64 for a national record-breaking performance.
#Gibbs, heading into the 12th grade at Queen's College, was also 39th in the 50m butterfly in 28.43.
#And Thompson, 19, was 34th in the women's 200m medley in 2:25.36 and 38th in the 100m freestyle in 58.86. She is attending Howard University.
#"The team performed at a high standard," said Bahamas Aquatics' president Algernon Cargill, who was also in attendance. "Our athletes were excited to compete at a high standard and all performed at their best.
#"Lamar Taylor had an exceptional performance in the 50 metres backstroke and missed the semifinals by one hundredth of a second, placing 17th overall."
#Cargill said overall, the championship was very competitive with multiple world records set. "This has inspired our athletes to train even harder in order to qualify for podium positions," he stated.