Team brings home trophies, medals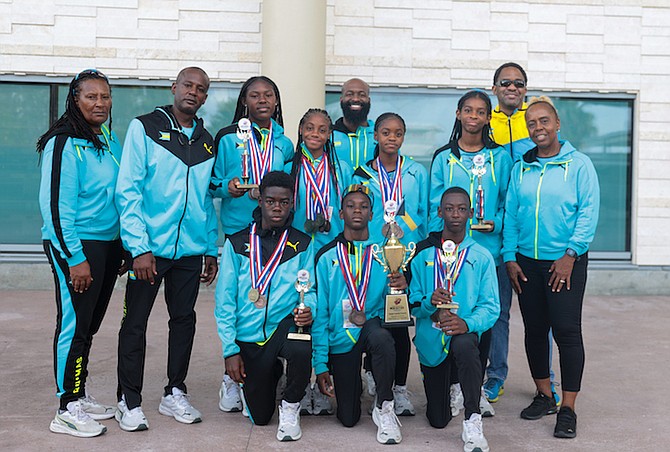 BRINGING HOME THE GOLD: Team Bahamas returned home yesterday from the IV North American, Central American and Caribbean Under-13 and Under-15 Championships as repeat champions. Photo: Austin Fernander/Tribune Staff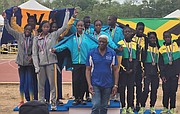 NACAC President Mike Sands presented the gold medals to Team Bahamas, who returned home yesterday from the IV North American, Central American and Caribbean Under-13 and Under-15 Championships in the Dominican Republic. The Bahamas topped Jamaica, who was second and Cuba, who came in third.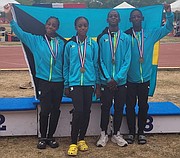 TEAM Bahamas' mixed relay team.
#By BRENT STUBBS
#Senior sports Reporter
#bstubbs@tribunemedia.net
#The Bahamas team returned home Monday from the IV North American, Central American and Caribbean Under-13 and Under-15 Championships as repeat champions.
#Team Bahamas, coached by Sherry Francis, posted a total of 27,984 points to out-distance Jamaica, who was second with 27,043 points and Cuba, who came in third with 26,641 in the two-day event over the weekend in the Dominican Republic.
#It was an improvement on Team Bahamas' performance at the last championships in Nicaragua in 2021.
#In the divisional competition, Team Bahamas' duo of Symiah Strachan and Trinity Rolle captured the pentathlon girls' 11-12 division with 5,411 points over Jamaica, who had 5,065 with the Dominican Republic third with 5,044.
#Strachan won the divisional title with 2,733 and Rolle was third with 2,678.
#The pentathlon boys' under-13 division saw Team Bahamas, consisting of Avonte Lotmore and Emile Higgins, pick up second place with 5,927 points behind Cuba's victory of 5,940 and just ahead of Barbados with 5,855 for third. Higgins was fifth with 2,986 and Lotmore seventh with 2,941.
#In the heptathlon girls' under-15 division, Keyezza Thomas and Alexandria Komolafe led Team Bahamas to third place with 7,617. The Dominican Republic won with 7,813 and Curacao was second with 7,620. Thomas was second with 4,355 points and Komolafe was 19th with 3,262.
#And in the heptathlon boys' under-15 division, Team Bahamas' pair of Jahcario Wilson and Kamron Henfield was third as well with 9,029.
#The British Virgin Islands took the top spot with 9,478 and Jamaica came in second with 9,126. Wilson won with 4,798 and Henfield got 21st with 4,231.
#Francis said she was quite pleased with the performances of the team.
#"We knew we were going in with a very strong team and we were the overall winners from the last games and this team was even stronger than the last one," Francis said.
#"So we knew that we were going to come out victorious."
#Francis said there were some outstanding performances across the board.
#"In the under-13 girls division, Symiah (Strachan) got first place and Trinity (Rolle) was third, so that division was very strong," Francis said. "Trinity only missed the second spot by about five points, so they were very strong.
#"In the under-15 girls' division, Keyezza (Thomas) was second and Alexandria (Komolafe) did very well. That was a very strong area aswell.
#"Jahcario (Wilson) won the under-15 boys division and Kamron (Henfield) was 21st. We also had a strong under-13 boys division. Emile (Higgins) was fifth and Avonte (Lotmore) was seventh."
#Based on what she saw, Frasncis said a lot of the clubs are concentrating on their youth development programme and it's paying off.
#"We were looking for the greatest from this crew. This is one of the strongest teams that I've seen and they came through," she said. "I was very pleased with the way the team performed overall."
#She noted that the Bahamas Association of Athletic Associations is looking to continue to excel at this level and she hopes that they can duplicate the feat at the next NACAC U13 and U15 Championships in two years.