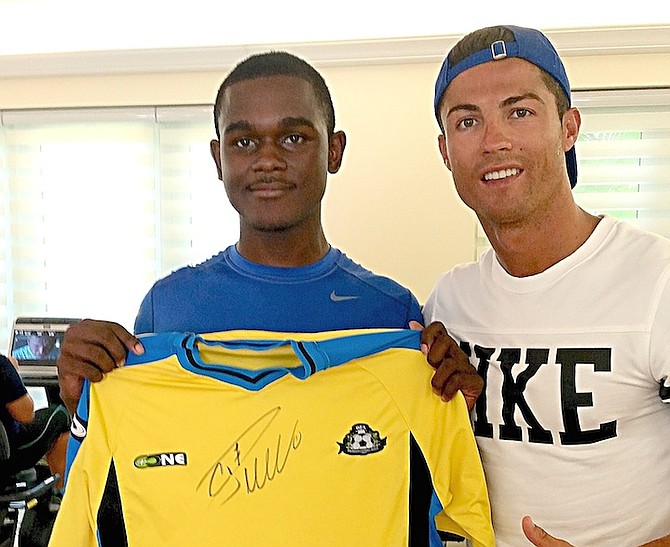 Chris Godet and Cristiano Ronaldo at the One & Only Ocean Club, Paradise Island.
#By RASHAD ROLLE
#Tribune Staff Reporter
#rrolle@tribunemedia.net
#AN ordinary Saturday at the beach for 17-year-old Christopher Godet turned unforgettable over the weekend when he met his idol, soccer superstar Cristiano Ronaldo, in the crystal clear waters at Paradise Island.
#His first trip to the Bahamas, the Real Madrid star was frolicking on the One & Only Ocean Club beach with his young son, Cristiano Jr, in celebration of his fifth birthday.
#Christopher discovered Ronaldo while cooling down following an intense gym workout.
#An aspiring footballer himself, the 6ft 2in centre back who plays for the Bahamas national team was nervous about approaching the world's best player, but threw caution to the wind and came away happy.
#"I saw him with his son and I figured he was on vacation," Christopher told The Tribune. "(He wasn't unapproachable) but I did have to think for a second before I went over there. I swam out and spoke to him for a little while. It wasn't a long conversation. I introduced myself, said who I was, said I played a little soccer for my national team and asked him about his stay in the Bahamas, to which he said he's enjoying it and that he loved the water. He said the Bahamas is a very beautiful place."
#As if meeting his idol once wasn't enough, the 17-year-old met Ronaldo again at the Ocean Club gym yesterday morning; and this time he brought a gift with him.
#"When I spoke to him (yesterday morning) he said he remembered me from Saturday and I thanked him for signing a ball and a shirt of mine by giving him one of our (national football team) shirts as a thank you gift for his time."
#For Christopher, Ronaldo represents the pinnacle of excellence in his sport. "Seeing him face-to-face is surreal," he said. "You could always look online and see pictures of him shirtless and all that. But up and close you see the incredible work he puts into his body. "The way he plays, he's so quick and powerful and I was able to see that this morning when he was in the gym working out. The effort that goes into being the best player in the world, like riding the bike for about six miles straight and finishing after about 24 minutes doing that is what I got to see. My goal is to try and get to that level."
#Christopher was graduated from Queen's College last week and will head to Mount Aloysius College in Cresson, Pennslyvania, in September on a soccer scholarship to major in Information Technology.
#He is the son of Dion Godet, the Bahamas national team coach and Director of Sales at Tribune Radio. His mother, Rionda, is a prominent lawyer and a former journalist.
#Having represented the Bahamas at all age group levels, Christopher made his debut for the country's senior team in the World Cup qualifying match against Bermuda in March.
#"I've always loved the game," he said, adding: "It was around 2012 that I really decided this is what I want to do." Such has been his dedication that he was a youth referee in addition to being a player and level D badge coach.