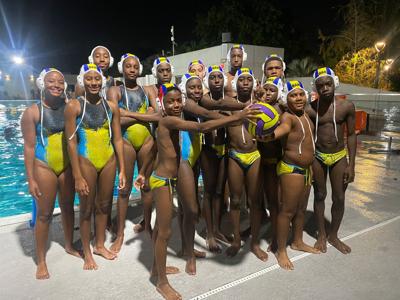 The Bahamas' under-14 (U14) coed team was able to capture the gold medal at the 2023 CARIFTA Water Polo Championships, held at Belen Jesuit Preparatory School in Miami, Florida. The tournament got underway on Friday and wrapped up on Sunday.
The team played in two tournaments at the same venue, and finished with the bronze medal in the other tournament. The team was coached by veteran water polo coach Laszlo Borbely. Assisting him was Wandalee Burrows.
Three first quarter goals put The Bahamas off to a good start, as Bonaire was able to get the ball past Isaiah Colon once in that period. Colon was named the top goalkeeper in the tournament.
After a 3-1 lead in the first quarter, Bonaire poured in six goals in the second period to take a 7-4 lead at the half. Looking to find some offense after a tough second quarter, it was none other than Shanterro Knowles – the top goal scorer in the tournament – who scored two goals in the third quarter to bring The Bahamas back in the game. The Bahamas also got a goal from Jamar Bienamie, while Bonaire scored one more goal to make it 8-7 when the whistle ended the quarter.
It was a masterful defensive fourth quarter by The Bahamas, as they did not concede a single goal. On the offensive side of the ball, Bienamie came up clutch for The Bahamas and scored two goals in that final quarter to finish with three goals in the game. Knowles also scored one goal to make it 10-8 as he finished with four goals in that game.
Also scoring in that game were Paityn Burrows, Jayden Smith and Caylen Brown with one goal each.
In the other tournament, The Bahamas was third after going up against Orlando United earlier in the day. They lost that game 14-11.
Knowles finished with three goals in that game, with all coming in the fourth period. Bienamie also scored three goals as he scored one in each quarter except the third quarter. Brown came away with two goals while Smith and Jahmahl Wilson scored a goal each in the loss.
The Bahamas opened the CARIFTA Championships with an 18-6 victory over Trinidad and Tobago. They then drew with Bonaire 8-8 in their second match. In their second match against Trinidad and Tobago, they won convincingly again with a 22-8 scoreline.https://a18b15d3bfd9e3d40f7ca2bcb14bd804.safeframe.googlesyndication.com/safeframe/1-0-40/html/container.html
Also at the tournament was Bahamian water polo referee, Emma Turnquest.
The team returned home yesterday.