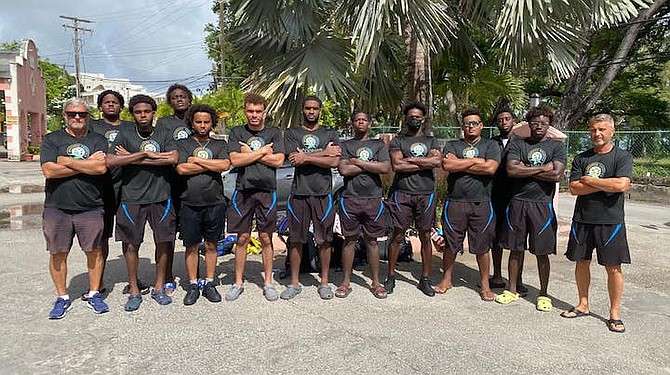 #By RENALDO DORSETT
#Tribune Sports Reporter
#rdorsett@tribunemedia.net
#Bahamas Water Polo achieved another milestone and earned a berth to one of the most advanced levels of play in the region.
#They defeated Guatemala 8-6 yesterday as play continued in the open men's category of the Central American and Caribbean (CCCAN) Water Polo Championships, being hosted in Wildey, Barbados.
#The win placed Team Bahamas in the 5th-6th reclassification game for the tournament.
#However, irrespective of the final result, the team has qualified for the 2023 Central American and Caribbean Games to be held in El Salvador.
#This marks a first for Bahamian water polo following years of success at the junior level through CARIFTA, CCAN and Junior Pan Ams. The Bahamas opened the CCAN competition earlier this week with a 27-2 loss to Puerto Rico in their opening match in Barbados.
#The 24th Central American and Caribbean Games are scheduled to take place in 2023. They were planned to take place in Panama City, Panama, until the government announced on July 24, 2020 that it had decided to withdraw as the hosts as a result of the COVID- 19 pandemic in Panama.
#In May, 2021, San Salvador, El Salvador was chosen to replace Panama City as host. The event will feature a total of 37 disciplines.
#The last time Bahamas Water Polo competed in El Salvador, they delivered a silver medal finish at the 2018 CCCAN tournament and qualified for the UANA PanAm Championships. This is the fourth time Bahamas Water Polo has participated at the CCCAN level following the 2016, 2018 and 2019 editions.
#The tournament is expected to host 50 matches over the eight days from July 19-26. The event will feature 20 women's and 30 men's games. In preparation for CCCAN, the team travelled to St Louis, Missouri to participate in a training camp with Club SLAP.
#They also participated in the Wally Lundt Senior Open where they finished with a 4-1 record.
http://www.tribune242.com/news/2022/jul/26/bahamas-water-polo-team-qualifies-cac-games/?news