Bahamas wins Billie Jean King Cup opener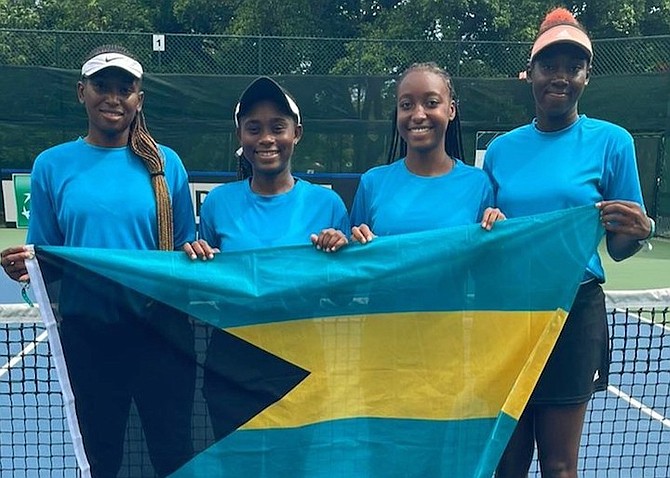 Player captain Simone Pratt, Sydney Clarke, Sierra Rodgers and Elana Mackey pose from left to right.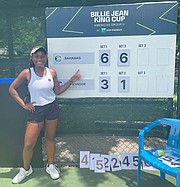 Sydney Clarke shows her victory display.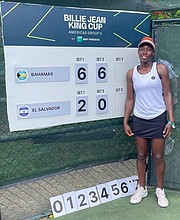 Elana Mackey after her opening victory.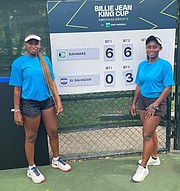 Doubles winners Simone Pratt and Sydney Clarke.
#By BRENT STUBBS
#Senior Sports Reporter
#bstubbs@tribunemedia.net
#The Bahamas Lawn Tennis Association ladies team made a spectacular showing on day one of the prestigious Billie Jean King (BJK) Cup Americas Group II in the Dominican Republic.
#The Bahamas, sponsored by Fidelity Bank and Trust Bahamas Limited, took advantage of their top seed ranking in their impressive 3-0 win over El Salvador yesterday at the Centro Nacional de Tenis Parque del Este.
#Playing in her first singles match as the team's No.2 seed, Elana Mackey made it look so easy, disposing of Daniela Aguilar of El Salvador in straight sets 6-2, 6-0 in a match that lasted just one hour and eight minutes.
#National champion Sydney Clarke, playing as the team's top-seeded player, needed one minute more than Mackey in following with her 6-3, 6-1 decision over Michelle Irigoyen in one hour and nine minutes.
#And with the tie secured, Clarke teamed up with player/captain Simone Pratt of Grand Bahama and used one hour and five minutes to put the icing on the cake with their 6-0, 6-3 win over Irigoyen and Santos Marmol in the doubles match for a clean sweep.
#When contacted in the Dominican Republic, the team noted that they were extremely pleased with the way they played on day one. "In the beginning of the match, I had a slow start and me and my opponent were alternating games until the score was 3-2," Mackey said. "Then after that, I was warmed up and I started to play looser."
#After a rain delay, Clarke said she was able to get the job done. "I think that helped me because I was able to clear my mind," Pratt said.
#"The first three games was pretty rough for me. I really had to relax, calm down and find myself. When I did, my performance got better as the match went on.
#"Overall, it was what I expected. I just got off to a slow start. Once I got into it, things were looking up.
#"In doubles, we met the expectations. We played pretty well. The chemistry was great and I'm just looking forward to what is in store for us going forward."
#Mackey, a tennis player and cross country runner at Mars Hill University, said she expected the team to pull off the win and she was just elated that she was able to contribute to the teams' success.
#"I'm hoping that we are able to beat the rest of the teams in our pool," Mackey said.
#"I'm looking to build on my performance and playing better each match."
#Clarke, one of the top players at the University of Alabama at Birmingham, said after getting off to such a good start, she expects them to get better. "I just hope that we all push ourselves and just get through those tough moments, whether mentally or physically and just be able to defy the obstacles and challenges and don't give up on things when they are not going our way."
#The 20-year-old Clarke said their performances yesterday was a clear indication of how they can overcome any obstacle and that is what they need to be successful for the rest of the tournament.
#Also on the team is rookie Sierra Rodgers who, at age 16, is the youngest player to play for the Bahamas.
#Hopefully before they are done, Rodgers will get a chance to get on the court.
#The Bahamas is expected to play against Bermuda today. They will wrap up on round robin play against the Dominican Republic on Wednesday.
http://www.tribune242.com/news/2022/jul/26/bahamas-wins-billie-jean-king-cup-opener/?news