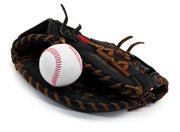 #By RENALDO DORSETT
#Tribune Sports Reporter
#rdorsett@tribunemedia.net
#Team Bahamas (Freedom Farm Baseball League) opened with consecutive wins in the preliminary round of Cal Ripken Baseball Major 70 World Series.
#The team moved to 2-0 after a dominant 12-1 win over New Zealand yesterday at the BallParks of Americas Field in Branson, Missouri.
#Andru Arhur went the distance and pitched a no hitter with eight strikeouts en route to the win.
#Lavardo Deveaux had a home run, drove in three RBI and scored three runs. Daniel Gator drove in three RBI and scored one run while Arthur also helped his own cause with two RBI and one run. The Bahamas opened the tournament with a 14-4 win over Australia on Saturday. Cleve Sutherland and Brian Johnson each had three strikeouts on the mound in the win.
#Gator drove in three RBI and scored one run.
#"I was just swinging for contact and just trying to get the ball into the outfield so I can get a base hit and help my team score runs," he said in the postgame press conference.
#Deveaux had two RBI and scored three runs, Breyias Dean had two RBI while Kashon Conliffe and Arthur each scored two runs. "Those guys have very good pitching so we had to be sure to keep focused. Our game, we depend on our athleticism so we make sure we use that to our advantage to ensure we get some runs. Bunting is something we had to implement to get some runs and place some runners in scoring position," said coach Stephen Burrows.
#"I think as we go along in this tournament we have to do more of that and our defence has to be a little bit tighter for us to put our best game together."
#They will complete the preliminary round against Puerto Rico at 3pm today.
#The Bahamas is one of 24 teams competing in the tournament and one of just 10 international teams alongside the aforementioned teams in their pool – Korea, Japan, Canada and Dominican Republic.
#Major 70 is a level of baseball beyond Little League but before professional that allows players to play on 70-foot base paths with a 50-foot pitching distance. It also allows runners to take leads and steal for the first time, playing mainly by official baseball rules.
#This innovation helped to prepare the youth for better transition to the 90-foot diamonds of the Babe Ruth Baseball 13-15 and 16-18 divisions of play. Today, the Babe Ruth League has more than 1,000,000 players on 56,000 teams in 9,000 leagues in eight countries and all 50 states.
#Last month, Freedom Farm closed out competition at the Caribbean Regional Qualifier for the Little League World Series with an historic finish for the Bahamas. The team claimed the bronze medal at the event with a 6-1 win over Aruba at the tournament in Sabana Grande, Puerto Rico.
#Participating teams in the event included Los Bravos de Pontezuela (Santiago, Dominican Republic), Aruba Center (Santa Cruz, Aruba), Pabao (Willemstad, Curacao), Radames Lopez (Guayama, Puerto Rico A), Gino Vega (Sabana Grande, Puerto Rico B) and District 1 (St. Thomas, US Virgin Islands).
#Radames Lopez won the tournament 5-2 over Pabao and will represent the Caribbean at the Little League World Series August 16-26 in Williamsport, Pennsylvania.
#After opening the tournament with three consecutive wins, the Bahamas suffered a four-game losing streak before concluding with the win in the bronze-medal game.