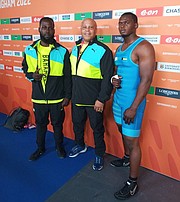 BAHAMAS wrestling team of Thorn Demeritte, coach Clint Burke and Rashji Mackey.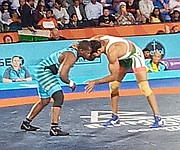 RASHJI Mackey wrestles against Tayab Raza.
#By BRENT STUBBS
#Senior Sports Reporter
#bstubbs@tribunemedia.net
#BIRMINGHAM, England — The encore appearance for Rashji Mackey and the debut of Thorn Demeritte didn't last that long in their men's wrestling matches at the 2022 Commonwealth Games. But the duo are confident that they will be back more prepared for the 2024 games in Paris, France.
#Mackey, who made his initial appearance in 2018 in the Gold Coast, Australia, competed out of his 86 kilo weight class and lost 10-0 to Tayab Raza from Pakistan in the 97 kilogram class in a bout that lasted one minute and 52 seconds at the Coventry Arena.
#Coached by Clint Burke, the pair participated in free style wrestling, which allows the use of the wrestler's or his opponent's legs in offence and defence. A wrestler is declared the winner by throwing and pinning his opponent on the mat.
#Demeritte, in his initial games, was the first to compete on Saturday, but he also got stopped 10-0 by Charlie Bowling of England in the 74 kilogram class in 1:48.
#For Demeritte, it was an experience that he will not forget. "It was a learning experience. This was my first fight in years, but I thought I could do better," he said. "I'm happy to be working with coach Burke because he's trying to get me to better my craft. I love this experience. I can't wait to come back.
#"This is obviously not the end for me. I want to show Bahamians that we can excel in this sport too. We grow up dashing people and so we just need to come out and get more people involved so the sport can grow."
#In his bout, Demeritte had a difficult time dealing with the taller Bowling and it showed when he got pinned on the mat. Demeritte said he realises that he needs to work on his "endurance, but there are a lot of other things that I need to do.
#"Coach Burke showed me so much things to do while we were in training leading up to this fight. I learned so much from him.
#Demeritte, 32, said after performing wrestling in college at Norman North, he said he was surprised to come home and find that there was an association in the Bahamas and he joined up.
#But he admitted that based on what he saw at the competition, he is more hungry to get back home and into the gym training for the next major competition.
#Despite losing for the second trip to the games, 36-year-old Mackey said he had an "awesome time" this time around.
#"I enjoyed it. I came out prepared. It was a pretty good match," he said. "I could have done a lot more fakes and even put my stomach down flat so he wouldn't be able to turn me the way he did and do a lot more leg snatches because he had some very long legs. I couldn't get a good grip of them."
#By fighting in a higher class, Burke said Mackey gave away 20-30 pounds to Tayab and that made the difference in the outcome of the fight.
#"He was fighting the tallest guy in the tournament, so I am impressed with the things he did, things we were working on in practice," Burke said. "His stamina is great and his strength is improving immensely since the last Commonwealth Games.
#"I just wished he was at his original weight class. I think it would have been a different outcome. But overall from my technical observation, he performed very well."
#As for Demeritte, Burke said he was also impressed with the things he did.
#"Of course, we wanted the win. He wanted the win. We also wanted him to win," he said. "But as a coach, I don't just look at the win. I look at the wrestler based on how we trained them in practice and based on that, Thorn has some growth to do in this sport.
#"He has been a collegiate wrestler where the rules are entirely different. He resorted a few things to his collegiate style of wrestling instead of sticking with the free style of wrestling.
#"That's something we can work on in the dojo. I think he's going to be a name to reckon with in the Commonwealth and internationally."
#Burke, who resides in Chicago, helped to start the wrestling programme in the Bahamas with the late George Mackey.
#He said they are still building and looking forward to great success in the future through the Bahamas Amateur Wresting Federation, headed by former journalist Clarence Rolle, who is also a vice president of the BOC.
#"We want to bring a full wrestling team to these games from the Bahamas so that we can make some noise just like the other sports do," said Burke, who provides internet training, but would prefer to be stationed in the Bahamas to further help the Bahamian wrestlers.
#Chef de mission Roy Colebrooke, who was on hand along with team doctor Ricky Davis to view the matches, said despite their shortcomings, the Bahamas Olympic Committee is just pleased to be able to get more of the smaller sports competing at the games.
#"The wrestlers went out and they represented the Bahamas very well," said Colebrooke, who also serves as vice president of the BOC. "It also shows the growth of the various sporting disciplines in the country.
#"The aim and objective is to create more wrestlers so that we can see more competitors coming to compete at the international level. As more wrestlers become a part of it, I believe we can do very well in the sport of wrestling."
http://www.tribune242.com/news/2022/aug/08/bahamian-wrestlers-dont-last-long-commonwealth-gam/?news