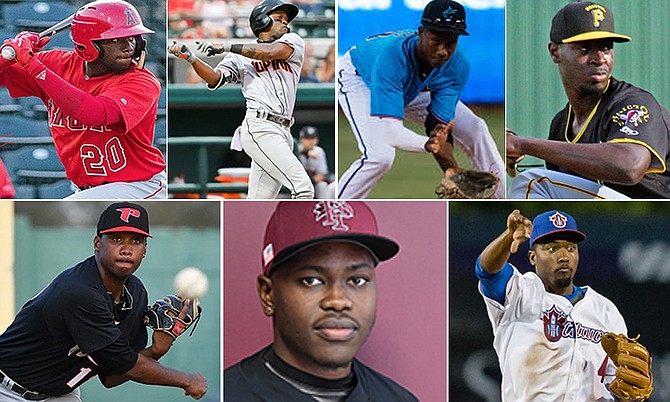 CLOCKWISE FROM TOP LEFT: D'SHAWN KNOWLES, ANFERNEE SEYMOUR, IAN LEWIS, TAHNAJI THOMAS, COACH ALBERT CARTWRIGHT, URAL FORBES and CHAVEZ FERNANDER.
As of Tuesday, September 13, 2022
#By BRENT STUBBS
#Senior Sports Reporter
#bstubbs@tribunemedia.net
#FOR the third time because the country is not eligible to field a team as yet, the Bahamas will have some players and a coach representing Great Britain at the World Baseball Classic.
#Without a team to qualify to compete, the Bahamas will once again join forces with Great Britain in the tournament that is being played in Regensburg, Germany, September 16-21.
#They have been paired in Pool A with Germany, Czech Republic, Spain, France and South Africa.
#Making up Pool B, which will play in Panama City, Panama, September 30 to October 8, are Panama, Nicaragua, Brazil, Argentina, Pakistan and New Zealand.
#The top two teams at each Qualifier will advance to the main tournament that will be played in March.
#Albert Cartwright, who played on Great Britain's teams in 2013 and again in 2017, is already in Germany where he will be on the sidelines as a coach with pitchers Tahnaji Thomas and Chavez Fernander, catcher Ural Forbes and outfielders Anfernee Seymour and D'Shawn Knowles.
#Ian Lewis, the only infielder selected, won't be making the trip as he's currently on the injured list and wasn't released by the Miami Marlins' minor league organisation.
#Cartwright, who was in Germany with Forbes and Seymour, while the others are due in today, said the Bahamian players got hit pretty hard by the injury bug this year and so a number of players who had the opportunity to play on the team could not because they got hurt.
#"I feel confident. I feel like each year when they started this and we were allowed to play for Great Britain in 2013, me and Antoan (Richardson) got better each year," he said.
#"I hope that we continue to get better this year and advance to the big dance."
#Cartwright and Richardson returned to play for Great Britain in 2017 with Jasrado "Jazz" Chisholm, Kyle Simmons, Ali Knowles, Todd Isaacs, Champ Stuart, Chavez Young and Reshard Munroe. The classic was scheduled to be played again in 2020 but was delayed to this year because of COVID-19.
#"When we got started in 2013, it was just me and Antoan and Great Britain was just fresh into playing into the classic," Cartwright said. "In 2017 when we added a lot more players, we actually believed we had a chance to advance, but we didn't.
#"Now in 2022, we believe we have a chance to advance because we have so many talented young players playing on the team. It's time to get over the hump, time to turn things around and time to make history for baseball for the Bahamas."
#The 2017 classic was the last official baseball game that Cartwright played in before he retired. He's now joined up with Geron Sands in the formation of I-Elite Bahamas – a local organisation that is helping to prepare the next generation of Bahamian players to play in the professional ranks or to secure athletic scholarships to college.
#"These young boys are so talented, so it's good to go out there on the field and watch them perform," Cartwright said. "It's good to be around Bahamians because it's not every day that you get a chance to do that at the international level.
#"I was talking to Anfernee earlier and he said he was excited to be in Germany and he's excited to be playing for Great Britain where he can team up with his boys to fight for something. That was how I felt when me and Antoan first played together in 2012. It's good to see them getting that same experience."
#Bahamas Baseball Association secretary general Teddy Sweeting said it's a great opportunity for the young to showcase their talent, like Seymour who is trying to get back into the minor league.
#"Once the players indicate their availability to play for the team, we had to seek their permission from their international organisations for them to be released," Sweeting said.
#"We had a few more players, but they couldn't get their release from their organisation so they can't play this year."
#Once the names were submitted to Great Britain, they made the final selection on who they would have added to their team based on the positions they needed to be filled.
#The Bahamas has had to play for Great Britain because with the Bahamas being ranked at number 80 in the world, the ranking was not high enough to be one of the teams coming out of the Pan American Baseball Confederation (COPABE) organisation, the governing body for baseball in the Americas.
#"Once you compete in their regional tournaments, it would allow you to generate points and based on our ranking, we would be allowed to compete as a country," Sweeting pointed out. "But the Bahamas has not competed in any international tournaments in COPABE or the World Baseball Association for many years, although we've had teams competing in tournaments such as the Babe Ruth Little League and AAU Tournaments, which are private tournaments and are not COPABE tournaments."
#Sweeting said they have been advised as to what they need to do in order to get a chance to compete in the next classic and they are working on putting things in place.
#He noted that in December, the BBA will be hosting the Caribbean Baseball Cup with seven visiting countries participating.
#The tournament is being scheduled for the new baseball complex, which is expected to be completed by the end of November. Sweeting said the tournament is expected to christen the new stadium, but also provide the Bahamas with their first step in getting a chance to qualify for the next classic rather than having players play again for Great Britain.
#The last international tournament that the World Baseball/Softball Confederation has on record that the Bahamas participated in was in 2018 at the Under-18 men's baseball World Cup Qualifier for the Americas in Panama. The last men's national team to compete was at the 2009 World Baseball Challenge in British Colombia, Canada.
#Great Britain will play its first game in this year's tournament at 1pm Friday at the Armin Wolf Arena against France.
#All games will be available for viewing on the World Baseball Classic YouTube and Facebook pages.
http://www.tribune242.com/news/2022/sep/13/bahamians-set-play-great-britain/?news