Ballin' By Da Beach Basketball Camp For Girls Now Open
#By RENALDO DORSETT
#Sports Reporter
#rdorsett@tribunemedia.net
#WITH summer basketball camps around the country in full swing, one of the few camps dedicated to female players opened yesterday for its highly anticipated third edition.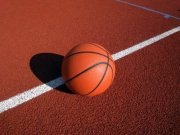 #Ballin' By Da Beach girls' basketball camp, hosted by Jurelle Nairn, in conjunction with the Back2Basics Foundation, is scheduled to continue through July 6 at the Kendal Isaacs Gymnasium.
#According to its website, the camp broke a record in its three-year existence with over 80 student athletes registered and competing on day one.
#Open to girls aged five and above, the camp is free of charge to all players and is expected to run 9am to 3pm daily.
#Nairn, one of the Bahamas' rising stars in the coaching ranks of women's basketball, has seen her camp grow in popularity and stature with each edition.
#Head coach Charisse Mapp, formerly of North Carolina State University and Salisbury, will conduct the camp along with Nairn, collegiate players and a number of local coaches.
#Nairn, who was also a one-time coach at Queen's College, said the inspiration for the event came from a need for her to give back to the community and the sport of basketball.
#"Ballin' By Da Beach was formed to develop systematic basketball programmes that provide the youth with life-changing exposure and education through the sport of basketball," Nairn said via the organisation's website.
#"Every year a countless number of skilled and talented current and prospective athletes go unseen and unexposed. Skills remain undeveloped, talent remains uncultivated, potential remains untapped, desires to be successful die, the passion to achieve greatness is killed, and worst of all, purpose remains unfulfilled. The maximum social, moral, and economic benefits that come from participating in athletics must not be denied to another generation. Ballin' By Da Beach is a movement committed to reversing this trend."
#Also noteworthy, in its second edition and returned for the third, the Ballin' By Da Beach clinic used its exposure and growth in popularity to honour one of the game's most recent icons.
# The camp again features T-shirts this year adorned with the image of Yolett McPhee-McCuin, the daughter of legendary Bahamian coach Gladstone "Moon" McPhee and educator Daisy McPhee.
#McCuin is currently the assistant coach/ recruiting co-ordinator at Clemson University where she has become the first female Bahamian coach to sign a Bahamian player, Jonquel Jones, to a top NCAA Division 1 programme.
#In 2009, she worked as an assistant on the senior women's Bahamian national team and was named the Caribbean Coach of the Year.
#She then developed the aforementioned Back2Basics organisation, which helps the development of children through education and athletics.
# Additionally, she was involved in numerous community service projects at her other coaching stops.
#"This movement was birthed from my passion to serve and inspire change in the Bahamas through basketball. Since I started playing basketball, God has just graced me with His favour over and over again," Nairn said. "I can truly say that I wouldn't be where I am today if it wasn't for basketball," she said. "It has opened doors that would have never been opened had I not played for the right people, in the right place, at the right time."