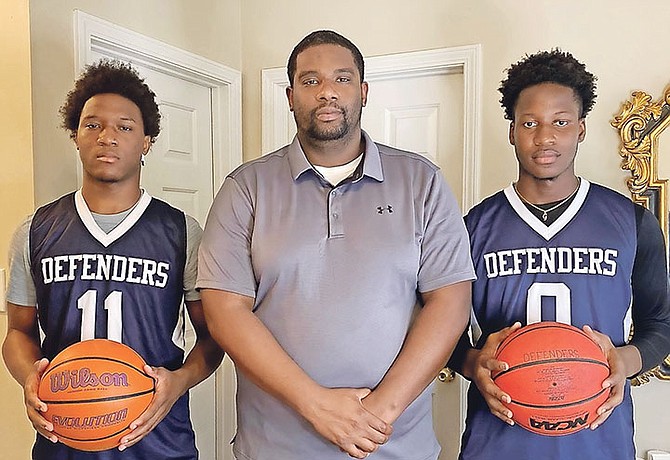 BACK TOGETHER AGAIN: Shown (l-r) are Deyton Albury, coach Jamal Smith and Garrett Edgecombe.
#By BRENT STUBBS
#Senior Sports Reporter
#bstubbs@tribunemedia.net
#For the first time since they were members of the Temple Christian Suns about two years ago, coach Jamal Smith got a chance once again to work with point guard Deyton Albury and forward Garrett Edgecombe.
#The trio hooked up last week to participate in the first in a series of AAU basketball tournaments for boys in the United States. As a part of the Carolina Defenders, they went 3-0 in a tournament in North Carolina.
#This weekend, the Carolina Defenders will be back in action at the Big Shots Tournament at the Myrtle Beach Sports Center in South Carolina. They start playing on Thursday with games shown live on demand at BallerTV.com.
#"This is like a reunion because when we were at Temple Christian, we had an awesome team," said Smith, who spent the past year in the United States coaching basketball.
#"These guys in particular showed a lot of promise and that they had the ability to play at the next level. So being in a position where I am in a position with the Carolina Defenders, I am glad that I could give them the platform to display their skills."
#Smith, who relished the days he coached the duo at Temple Christian, said Albury and Edgecombe will have a chance to play against some of the top high school players who have been recruited by division one basketball this year.
#"For Deyton, in particular, I think he had a very strong year at Sunrise Christian Academy and so I expect him him to just build on that," Smith said.
#"The competition level is good for him. I think he will rise to the occasion and be the player that we have known him to be. He just has an awesome weekend and an even awesome month.
#"When it comes to Garrett, I expect him to be the same kind of defensive force that he was when he played for Temple Christian. This is going to be an adjustment period for him because with his size, he will have to play more on the wing, but I think he can adjust to it."
#After being sidelined from his Sunrise Academy team since March due to the spread of the coronavirus that halted all sporting events worldwide, Albury said it was good to be back in the United States and playing again.
#"I was happy to get back on the court and playing basketball again," said the 18-year-old Albury, who left town on July 1 when the borders reopened to get acclimated with his new team.
#During the month of July, the Carolina Defenders are expected to participate in at least five tournaments and at least 30-40 games. Hopefully, they will be successful where they can end up playing in another tournament in August to wrap up the tour.
#"A lot of the tournament directors are taking the necessary preventive measures. They check your temperatures at the door and you must wear your mask to get in," Smith said.
#"The spectators are limited because they are only allowing a few to come in and watch their team when they play and you have to leave the gym when you are done. So they are trying to deal with the social distancing to prevent any outbursts."
#With all of the safety measures in place, Albury, who was a two-sport star at Sunrise Christian Academy in Bel-Aire, Kansas where he was featured on their state championship football team, said he's just concentrating on playing basketball.
#"I'm just happy to be on the court," stated the 6-foot, two-inch guard.
#"I'm not worrying about it. I'm wearing my mask and sanitising, so I'm good. I feel safe in the environment we're playing in."
#As for his performance so far where he averaged about eight assists, seven steals and 12 points, Albury said he just wanted to get back in the flow of things as he reunited with Edgecombe and Smith as they prepare for the Big Shots Tournament this weekend.
#"We've been playing together for a long time, so the chemistry was always there between us," said Albury of teaming up with Edgecombe on the court. "It's just a matter of getting into the rotation with the other guys and seeing how they play."
#Edgecombe, an 18-year-old six-foot, three-inch forward, said it was good to be playing with Albury again, especially since they haven't done anything since the start of COVID-19.
#"Every player on our team has been holding up their end of the bargain," Edgecombe said. "I feel like me and Deyton will make a big difference on this team because we know how each other play.
#"The tempo is a lot faster than I expected, but I've made the adjustment. It just feels great to be back on the hardware floor playing basketball again. I'm liking it."
#Albury, who graduated from Sunrise Academy with a 3.50 grade point average, said when they got the news that they would also be playing for coach Smith, they got even more excited because they remember the success they enjoyed at Temple Christian.
#And Edgecombe said despite the fact that there's very little fans in the stands to cheer them on, they feed off each other and that has been one of the reasons for their success so far.
#"For the tournament coming up, I expect that we will finish on top and we can go as far as we can go as a team," Edgecombe said. "Coach Smith has really been a big inspiration for us too."
#While Albury left Temple Christian to complete his high school days at Sunrise Christian Academy, Edgecombe moved on to Galilee Academy. Both are looking at playing at two different prep schools in South Carolina over the next year before they look at entering the collegiate ranks.
#Carolina Defenders, according to Smith, have about four players who combined have already received over 30 division one offers. He said they have an all-around team that can shoot the ball and play solid defence.
#So based on the personnel they have with the addition of Albury and Edgecombe, they should be able to continue the winning streak that they started last week.