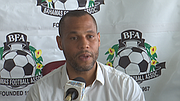 Coach Gavin Christie, who is responsible for beach soccer in the Bahamas Football Association.
#By BRENT STUBBS
#Senior Sports Reporter
#bstubbs@tribunemedia.net
#THE Bahamas, with their home court advantage and playing out of Group B, has selected a solid, 12-man team that the Bahamas Football Association is confident will be able to compete against its peers in the CONCACAF Beach Soccer Championships (CBSC) World Cup Qualifier.
#"I think we are very confident in the team that we have put together," said Gavin Christie, who is responsible for beach soccer in the BFA.
#"We have some very experienced players along with some young, vibrant players, so we feel we should be able to perform very well in the tournament."
#On Friday, in the lead up to the tournament, Christie and the coaching staff released the names of the 12 players who will carry the Bahamian flag.
#The list includes Michael Butler, Julmis Evelt, Daron Beneby, Jean Francois, Kyle Williams, Gary Joseph, James Thompson, Creven Ferguson, Julmis Wood, Lesly St Fleur, Gavin Christie and Torin Ferguson. The Bahamas will be playing alongside Mexico, Guatemala and Belize when the week-long tournament gets underway today (free of charge for spectators) at the beach soccer stadium at Malcolm Park.
#Group A will comprise El Salvador, Costa Rica, Guadeloupe, Turks and Caicos Islands, while Group C includes the United States, Panama, Trinidad and Tobago, Dominican Republic.
#A series of stage games in each group will be played starting at noon with the Bahamas playing the feature games at 7:30pm each day through Wednesday.
#Following the group play and a day of rest on Thursday, the first and second place finishers in each group, plus the two best third place finishers (eight teams in total) will advance to the quarterfinals on Friday, followed by the semifinals, third-place match and the Final.
#The two finalists will qualify for the 2023 FIFA Beach Soccer World Cup. El Salvador pulled off the last CONCACAF Beach Soccer Tournament played in Costa Rica in 2021 with a 6-4 victory over the United States in the Final.
#"This is always a very hard fought tournament because there's a lot at stake and a lot of the teams will be using players who play all around the world," Christie said. "This is a qualifier for the World Cup in beach soccer and everybody wants to get that opportunity to qualify.
#"So we know that every game played will be of a high level. We just have to go out there and play our best. It's going to be competitive, but we feel we have a team that could play with these teams."
#Christie said the biggest advantage Team Bahamas has is home court.
#"We normally play on the road where the stadium is filled with the fans waving their flags for their home team," Christie said. "So with the tournament being home, we feel like we have the sixth man so to speak on the pitch.
#"We don't normally get to play at home, so this is a good time in a high level tournament for the Bahamian public to come and see what we are made of. So we're hoping that the fans will come out and support our team."
#The Bahamas will be playing in their eighth CBSC and has made it to three straight quarterfinals in the 2015, 2017 and 2019 championships. The question is: Will Team Bahamas surpass those feats this year?
#– Here's a look at the team rosters for this week:
#Costa Rica – Anothony Lopez, Arrieta Frandert, Prado Christian, Pena Daniel, Roger Mora, Rachith Gomez, Lponis Calero, Christian Sanchez, Greivin Pacheco, Jhonatan Sanchez, Deyber Villegas and Jeaustin Medina.
#El Salvador – Erick Najera, Andres Cruz, Heber Ramos, Melvin Gonzalez, Exon Perdomo, Jason Urbina, Elmar Robles, Darvin Ramirez, Abdres Osorio, Rogelio Rauda, Francisco Velasquez and Eliodoro Portillo.
#Guadeloupe – Steeve Mirabel, David Nicolas, Yannick Ruart, Ricardo Mezence, Gary Andre, Gael Geolier, Marvin Quinol, Stephane Amadiah, Gaetan Gailan, Sebastien Hell and Cesaire Amadiah.
#Turks $ Caicos – Pendieno Brooks, Leishawn Green, Ivenson Philogene, Ledson Jerome, Peterson Evariste, Emmanuel Martin, Billy Forbres, Henry Magny, Dornell Wiles, Sylvins Wilkins, Wildens Delva and Sebastian Turbyfield,
#Bahamas – Michael Butler, Julmis Evelt, Daron Beneby, Jean Francois, Kyle Williams, Gary Joseph, James Thompson, Creven Ferguson, Julmis Wood, Lesly St Fleur, Gavin Christie and Torin Ferguson.
#Belize – Jahym McKenzie, Sean Alexander, Jermain Jones, Brandon Jones, Kenen Castillo, Ken yon Martinez, Darnae Garcia, Devin Guzman, Jaheim Mena, Marlon Meza, Rahmond Ramos and Brenton Garcia,.
#USA – Christopher Toth, Alvaro Franco, Antonio Chavez, Ricardo Carvalho, Nicholas Perea, Cody Valcarcel, Nicolas Perera, Connwe Santiago, Tomas Canale, Gabriel Silveira, Christopher Albiston and Austin Collier.
#Panama – Jason Navarro, Aguilar Montero, Alberto Kelly, Jose Escobar, Nagdiel Del Rosario, Eliecer Garcia, Edgar Carvajal, Rafael Garcia, Alfonso Maquensi, Julio Watson and Jaime Londono.
#Trinidad & Tobago – Jabari Gray, Akinola Gregory, Jsayson Joseph, Shallun Bobb, Omri Baird, Kevon Williams, Jordan Riley, Jesse Bailey, Hakeem King, Shane Hospedales, Hakeem Perry and Zane Coker,
#Dominican Republic – Miguel Rojas, Jose Shanlatte, Yensyt Severino, Yorinson Noesi, Cesar Ramirez, Alfredo Baez, Miguel Moreta, Inoel Navarro, Miguel Rivera, Wander Medina, Yan Lluberes and Raybel Tejeda.
#Mexico – Gabriel Marcias, RJuan Morales, Jose Hernandez, Edgar Portilla, Hector Acevedo, Alejandro Garcia, Diego Martine, Enoch Lopez, Christopher Castillo, Jair Aleman, Jose Vizcarra and Antonio Echeverria.
#Guatemala – Anderson Crespo, Juan Flores, Berny Marroquin, Angel Saenz, Lem Jose, Wilson Gonzalez, Jose Gonzalez, Samuel Perez, Miguel Gonzalez, Pablo Crocker, Edwin Lopez and Hendrick Cordova.
#• Here's a look at this week's schedule:
#Today
#Noon – Panama vs
#Trinidad & Tobago
#1:30pm – USA vs
#Dominican Republic
#3pm – Costa Rica vs
#Guadeloupe
#4:30pm – El Salvador vs
#Turks & Caicos
#6pm – Mexico vs Belize
#7:30pm – Bahamas vs
#Guatemala
#Tuesday
#Noon – Dominican
#Republic vs Panama
#1:30pm – Trinidad &
#Tobago vs USA
#3pm – Turks & Caicos vs
#Costa Rica
#4:30pm – Guadeloupe
#vs El Salvador
#6pm – Guatemala
#vs Mexico
#7:30pm – Belize
#vs Bahamas
#Wednesday
#Noon – Trinidad
#vs Dominican Republic
#1:30pm – USA vs Panama
#3pm – Guadeloupe vs
#Turks & Caicos
#4:30pm – El Salvador
#vs Costa Rica
#6pm – Guatemala
#vs Belize
#7:30pm – Mexico
#vs Bahamas
http://www.tribune242.com/news/2023/may/08/bfa-selects-12-man-beach-soccer-team-represent-bah/?news