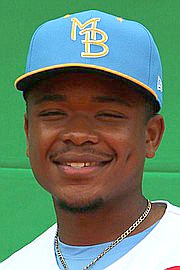 BJ Murray
#By RENALDO DORSETT
#Tribune Sports Reporter
#rdorsett@tribunemedia.net
#BJ Murray Jr continues his progression in the Chicago Cubs organisation.
#The 22-year-old infielder was assigned to the club's High-A affiliate, the South Bend Cubs, and saw immediate action on the field with the club.
#Murray finished with a run and stolen base in the Cubs' 5-4 loss to the Quad City River Bandits' on June 14, the first in a six-game series.
#The Cubs are currently third in the Midwest League's East Division at 30-28.
#Murray began his 2022 season at the Low-A level with the Myrtle Beach Pelicans.
#Through 39 games with the club, he hit .305, slugged .461 with a .902 OPS, 39 hits, including three home runs, 11 doubles, 31 runs scored and 25 RBI.
#Murray overcame a slow start in his first season at the Low-A level.
#But he became one of the club's offensive leaders across all categories at the time of his new assignment.
#He produced 11 multi-hit games, highlighted by a season high 3-4 night with five RBI in his club's 24-6 win over the Winston- Salem Red Sox.
#He previously earned Player of the Game honours when he finished 2-3 with a home run, double, an RBI and three runs scored in the Pelicans' 9-1 win over the Columbia Fireflies, on April 30.
#Murray began his day with a solo home run in the bottom of the second inning.
#He also doubled in the fourth inning.
#He concluded May and began June with a six-game stretch against the Delmarva Shoebirds where he hit .529 and scored seven runs with two RBI.
#It also included four multi-hit games.
#Murray was selected by the Cubs out of Florida Atlantic University with the 22nd pick in the 15th round, no. 454 overall in the 2021 MLB Draft. He spent his first season of professional baseball in the Arizona Complex League.
#Through 16 ACL games, he hit .286, slugging .482 with a .826 OPS, 16 hits, including two home runs, three doubles, a triple, 12 runs scored an eight RBI.
#Keep up the good work.
http://www.tribune242.com/news/2022/jun/16/bj-murray-assigned-chicago-cubs-high-affiliate/?news