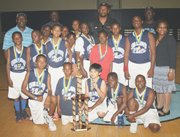 #By BRENT STUBBS
#Senior Sports Reporter
#bstubbs@tribunemedia.net
#OUR Lady's Blue Flames, one of the two Catholic primary schools preparing for closure for good in June, added another Phil Smith Basketball Challenge title to their collection as they held off the surging Carlton E Francis 20-18 in the final of the fourth annual primary boys basketball tournament.
#The week-long tournament, organised by the Providence Basketball Club, saw the St Bede's Crushers, the other Catholic school facing closure, capture the consolation third place with a 23-21 overtime victory over the Temple Christian Suns in the only other game played Thursday at CI Gibson Gym.
#The Blue Flames jumped out to an impressive 11-2 lead, thanks to the six points from Francesco McKinney and five from Deyton Albury.
#But Carlton E Francis, playing in their sixth final for the school year, stormed back in the second half and in the final two minutes (running time) managed to come within two before Garvin Clarke had the opportunity to win it with a three-point attempt just before the final buzzer. But the ball fell short as it hit the front of the rim as Our Lady's celebrated.
#"Carlton E Francis is a very good team. We played them twice. They won one and we won this one," said Blue Flames' coach Rohan Parks. "This is a tournament we always like to play. We won the first one last year. This is our second time winning it."
#Albury and McKinney, who was named the most valuable player, both finished with eight points. "I felt very good because the team played excellent," McKinney said. "Carlton Francis is a very good offensive team. They came back, but we held onto the lead. I was surprised how good they played, but we played very hard to win and made history, winning the title again before our school close."
#Noted Albury: We played with confidence and we extended our defense and we controlled the ball excellently. It feels wonderful (winning the title)."
#For Carlton E Francis. it was the third time in their six appearances in a final that they fell short, but coach Sherman Smith said this one hurt the most because they fought so hard to get back into the game.
#"We started off a little slow. For the first half, we didn't score a field goal," he said. "We still came back hard in the second half and lost by two points. If we had played our game in the first half, we would have won it."
#Javon Woodside had a game high 11 points, all coming in the second half to fuel their comeback. Clarke ended up with seven.
#Crushers 23, Suns 21
#Blaize Darling scored all four of St Bede's points in overtime as they outscored Temple Christian 4-2 for third place. The game was tied 19-19 at the end of regulation.
#St Bede's led 12-8 at the half as Darling came through with five. He finished with a game high 17 and was joined by Jorden Freemantle with five.
#"I feel good, very good, due to the lack of preparation because of the off season," St Bede's coach Ricardo Freemantle said.
#"But we came out and we remembered the things that we did in the regular season and we applied that to win."
#Rolian Santilus had 10 in a losing effort.
#In addition to the team awards, the organisers handed out the individual awards that went to Mateo Taylor from Our Lady's for most rebounds, Nathan Moss from Temple Christian for most steals, Deyton Albury from Our Lady's for most assists, Rolien Santilus from Temple Christian for most blocks, Blaize Darling from St Bede's as the most offensive player and Francesco McKinney from Our Lady's as the best defensive player.
#The All-Tournament team members are Blaize Darling, Jorden Freemantle, Garvin Clarke, Javon Woodside, Najee Winder, Rolian Santilus, Deyton Albury, Francesco McKinney, Nicholas Strachan and Chandon Kelly.
#The regular season MVP was Garvin Clarke and the coach of the year was Rohan Parks.