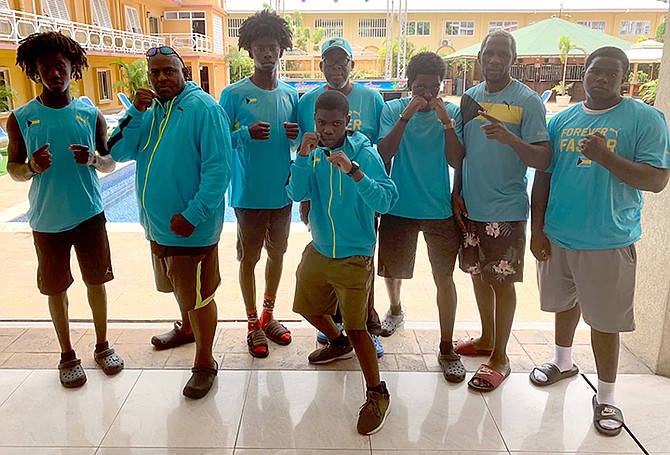 DUKES UP: Members of the High School/Junior Boxing Championship team. Shown, from left to right, in the back row are Jailen Young, assistant coach Vincent Deleveaux, Jaiden Young, Vincent Strachan, Keano Cox, head coach Carl Hield and Elijah Smith. In the front row is Andrew Curtis.
#THE Boxing Federation of the Bahamas' team arrived in Georgetown, Guyana, yesterday for the High School/Junior Boxing Championship.
#The team went from Nassau to Miami, Florida to Port of Spain, Trinidad & Tobago, before they got into Guyana.
#Upon their arrival, the team went through their light workout sessions before they go through the registration, medical clearance, inspection and weigh-in processes today. The competition is expected to start on Saturday and will be completed on Sunday.
#The team is scheduled to return home on Monday.
#According to federation president Vincent Strachan, the team is confident and in high spirits. "They are a cohesive unit," Strachan said.
http://www.tribune242.com/news/2022/aug/26/boxers-arrive-guyana-high-schooljunior-boxing-cham/?news