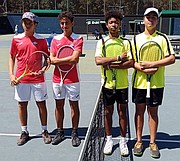 BAHAMAS doubles team of Jerald Carroll and Jackson Mactaggart with their opponents.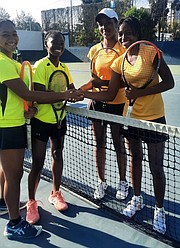 SAPHIRRE Ferguson and Jalisa Clarke take a photo with their doubles opponents.
#THE Bahamas boys team lost to the Dominican Republic in their quarter-final match yesterday in the Junior Davis Cup tournament in Guatemala.
#Team Bahamas lost 2-1. Jackson Mactaggart lost his singles match 6-1, 6-2, but Jerald Carroll won his singles 6-1, 6-0. In doubles, the team of Carroll and Mactaggart lost 6-2, 6-4.
#"It was a super results for the team playing their fist under-16 team event," said coach Bradley Bain. "They will be better the next time around with more training and match experience."
#The team finished in fifth place with this being the first time experience for Carroll, while Mactaggart and McCartney participated for the second time.
#The junior Billie Jean King Fed Cup team, coached by Marion Bain, won 3-0 over Jamaica to advance to the consolation round. Saphirre Ferguson won her singles match 7-5, 6-7, 10-2, BreAnn Ferguson won her singles 6-2, 6-3 and Saphirre Ferguson and Jalisa Clarke teamed up to win their doubles match 6-1, 6-0.
#The Bahamas will now play for ninth spot today.
http://www.tribune242.com/news/2023/mar/03/boys-lose-jr-davis-cup-jr-billie-jean-king-fed-cup/?news