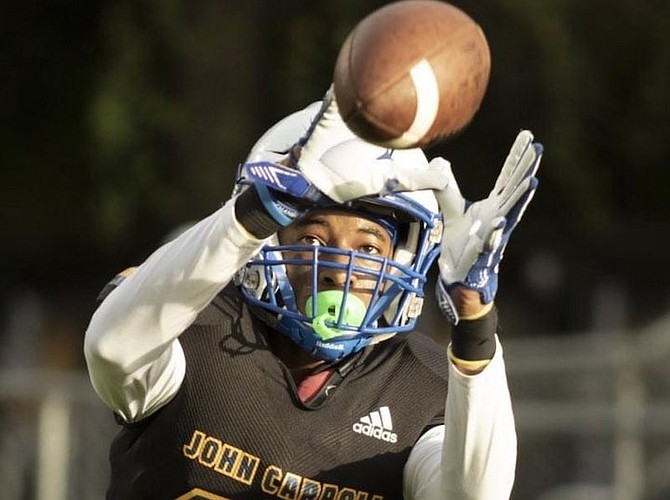 Prince Strachan
#By RENALDO DORSETT
#Tribune Sports Reporter
#rdorsett@tribunemedia.net
#Prince Strachan continues his breakout junior season on the gridiron for John Carroll High School Rams.
#Stracahan racked up 10 receptions for 143 yards and two touchdowns for the Fort Pierce, Florida powerhouse in their 37-12 win over South Fork High last weekend in Florida.
#Through five games thus far, the 6'4" Grand Bahama native has emerged as a deep threat en route to the Rams' 4-1 record on the season.
#He caught three receptions for 76 yards and two touchdowns in a 27-0 win for his Rams over the Port St Lucie Jaguars in the season opener.
#The Golden Rams also won 23-0 over the Okeechobee Brahmans and 47-14 over Avon Park before a 57-28 loss to Treasure Coast.
#They look to improve to 5-1 against Fort Pierce Central on October 16.
#Strachan relocated from Grand Bahama to John Carroll following Hurricane Dorian last year. He played sparingly as a sophomore and the Rams are were high on his prospective impact headed into this season.
#Prince is the younger brother of University of Charleston Golden Eagles All-American wide receiver, Mike Strachan.
#Thus far the younger Strachan has already received an offer from the Golden Eagles.
#Mike Strachan, was recently listed among Yahoo! Sports' top "small school" prospects for the 2021 NFL draft and a preseason All-American.
#He was named an NCAA Division II Second Team All-American by the American Football Coaches Association and to the 2019 Don Hansen NCAA Division II All-America team.
#Both young receivers look to continue the lineage established by their father at the position.
#"My dad, Jerome Strachan, He played football at Bethune-Cookman under head coach Larry Little. He was part of the Dolphins team that went undefeated in the 70's. My dad learned a lot from him. He also played wide receiver in college," Mike told NFL Draft Blitz in a recent interview.
#"He taught me how to be tough. The major thing is having the mental toughness."