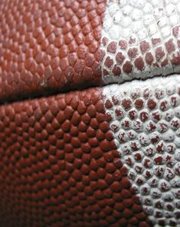 #By RENALDO DORSETT
#Tribune Sports Reporter
#rdorsett@tribunemedia.net
#THE NCAA Division II football regular season concluded with a breakout season for Mike Strachan and a productive year in a new programme for Rondre Knowles-Tener.
#Strachan finished with five receptions for 55 yards and one touchdown in the Charleston Goulden Cougars 28-6 win over Glenville State.
#It was the sixth consecutive game where Strachan recorded a touchdown catch and the Golden Eagles finished the season at 6-5.
#After a scoreless first quarter, Charleston struck first with a field goal and Strachan's six-yard connection with Mason Olszewski for a 10-0 lead.
#Glenville would score their only touchdown early in the third quarter but the Cougars ended the game with 18 unanswered points.
#Strachan finished as the only player in the Mountain East Conference to eclipse the 1,000 yard receiving mark. On the season, he totalled 48 receptions for 1,007 yards and eight touchdowns. He led the conference in receiving yards, was third in both average yards per catch at 21 and average yards per game at 91.5. His touchdown total finished fourth.
#Strachan had five games of over 100 yards receiving, including a season high 166 yards against Fairfield and season high eight receptions against Notre Dame College.
#He was a redshirt in his true freshman season and saw the first playing time of his collegiate career last year when he finished with just one reception.
#Strachan continues to be a two-sport star for UC and is the defending conference champion in the 200m, 400m and 4x400m relay.
#Knowles-Tener and U-Va ended the season with a 21-16 win over Shepherd in and brought an end to their six-year run in the MEC as they prepare to shift to the South Atlantic Conference next fall.
#He finished with his best game of the season, two sacks and three tackles. The sophomore defensive lineman finished his first full season of college football on the field with 21 tackles (including three for a loss), three sacks, two fumble recoveries, two quarterback hurries and one field goal block.
#After struggling to earn playing time over the last two seasons with the James Madison Dukes, Rondre Knowles-Tener has decided to leave the programme and transfer to the Virginia-Wise Cavaliers.
#With the move to Virginia-Wise, he also joined Strachan in the Mountain East.
#Both players played at the high school level for Liberty Christian Academy in Lynchburg, Virgina.
#Coming out of high school, Knowles-Tener originally committed to the East Carolina Pirates but eventually chose to join the programme at James Madison.
#He sat out his true freshman season last year as a redshirt but was expected to be an important factor in the Dukes' plans for its defensive front line moving forward. The 6'1″, 295-pound defensive lineman is a former standout performer at Tabernacle Baptist Academy and also anchored the defensive line at Liberty Christian Academy. Knowles-Tener drew interest from a number of elite Division I programmes, including Wake Forest and East Carolina. He originally committed to East Carolina but said James Madison is a better fit.
#In his stint at LCA, he earned numerous accolades, including VISAA Division I Second Team All-State as a junior, VHSL Honourable Mention All-Region 4A West and First Team All-Conference 23 as a senior and was a member of LCA's VISAA Division I state championship team as a sophomore.
#Strachan a three-sport star who at LCA, was a member of the 2013 VISAA 1 State Championship team and received All Conference and Honourable Mention All-Region as a senior. Strachan was also ranked fourth nationally in the 500m, and he set a new LCA record in the event at the Hokie Invitational.