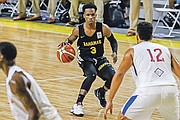 Dominick Bridgewater
#By RENALDO DORSETT
#Tribune Sports Reporter
#rdorsett@tribunemedia.net
#DOMINICK Bridgewater continues to climb the pro basketball ladder in France and was promoted for the upcoming season.
#Bridgewater, a member of the For-Sur-Mer Provence Byers Club, was placed on loan to Sapela Basket 13 of France's Nationale Masculine 2 (NM2) League.
#It has been a seamless transition to the professional level for the 20-year-old Bridgewater after standout seasons as a member of the Byers' Epoirs (Junior League – U21) and NM3 League teams.
#Jaraun "Kino" Burrows, who also returns to the Byers next season, facilitated Bridgewater's move to the French club through his "Raw Talent" organisation which trains Bahamian pro basketball prospects.
#"In the continuity of partnership with our friends at the Sapela Basket 13, we are pleased to be able to official the loan of our young leader Bahamian Dominick R Bridgewater," the Byers said in the official announcement.
#"Arrived in 2018 at the Byers Academy as part of our collaboration with the association "Raw Talent" (led by Jaraun "Kino" Burrows) Dominick will be able to complete his training in NM2 under the orders of the former assistant of Giuitta Rémi, Alexandre Casimiri."
#In March 2019, an 18-year-old Bridgewater made history when he became the first Bahamian player to make the jump straight from high school to the professional basketball ranks when he signed a Junior Pro contract with the Byers.
#He spent his first season as a member of the club's Epoirs (Junior League – U21). In 28 games, he averaged 15.7 points, 4.1 assists and 4.2 rebounds per game.
#After a promising start to his second season in the U21 ranks, he was made eligible to the A roster with a call-up to participate in the LNB Pro B Leaders Cup. The team was eliminated in the semi-finals to Nancy.
#At the time of his call-up, Bridgewater dominated the NM3 league at 23.7 points and 7.5 assists per game.
#In February, Bridgewater also made the transition from a junior national team standout to a breakout performer on the senior national team. He came off the bench to lead The Bahamas to a 76-59 win over Mexico in the latest round of FIBA Americas Qualifiers.
#The youngest player on the roster, Bridgewater scored 15 off the bench to lead four Bahamians in double figures.